Production Value 2013 in Switzerland Summary | Full report
What the Producers Say About It
Eduardo Carneros, Producer of THE WATCHMARKER's EYES – Spain
Thanks to you all for sharing your enlightened expertise and points of view, and for passing on us your passion that sometimes producers needs to gather in order strengthen their long and winding road.
Henryk Henriksen, Producer of The LAST KING – Norway
It really impressed me the generous way everybody shared their projects, thoughts, knowledge and gut-feelings with each other, making a fruitful discussion possible and putting realism into what usually is discussed behind closed doors between too few people. Thanks again to FOCAL for pushing this great workshop through every year, closing the cultural gap in our little but differentiated part of the world.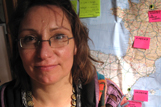 Caroline Velan, producer of DOG – Switzerland
I can already tell you that this workshop will influence my way to proceed. From now on, I want the scheduling and budgeting steps to take place quite upfront, before financing the film, instead of as we greenlight the film, once financing is secured.
Production Value 2013 was proposed by
FOCAL
Norvegian Film Development
Austrian Film Institute
Swedish Film Institute
with the support of
The MEDIA Programme
Canton du Valais