Production Value 2014 in Austria Summary | Full Report
We All Signed Up to Make that Script
The 8th edition of our Production Value workshop was held in Retz (Austria), January 4-12, 2014. Six Junior Line Producers, 6 Junior Assistant Directors, 7 Producers, 3 Directors and 7 Seniors as tutors, coming from 11 European countries, gathered together for this workshop, which focused on the process of budgeting and scheduling 6 feature films in development. The workshop — coproduced by FOCAL (Switzerland), the Norwegian Film Institute (Oslo), the Swedish Film Institute (Stockholm) and the Austrian Film Institute (Vienna) — was supported by MEDIA TRAINING, a program of the European Union.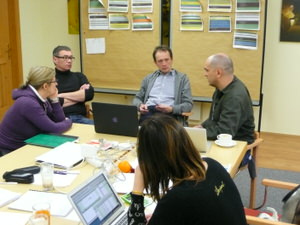 Some Seniors and the Head of Studies were already acquainted with the location, since Production Value was returning to Retz in Austria for the second time after 2010. For those familiar with its process, the workshop can take place anywhere. All you need are talented Juniors, dedicated Seniors and complex feature films scripts to deal with. Actually, you also need their producers and directors. They are the ones who dare to hand their "babies" over to complete strangers. That might seem like an easy thing to do — letting them schedule and budget your "babies"—but it's not: the teams are going to scrutinize them under every single angle, explore them in depth, literally tear them apart… to turn them into workable shooting days and budget lines.
What we do at Production Value is unique in many ways. First of all, we nurture young assistant-directors and young line producers, because we believe such talents need to be nurtured within the European film industry where, mostly, they tend to be neglected. Much too often, they are only referred to as "operational people," rather than "creative" ones. By the way, that is not the opinion of the Director's Guild of America (www.dga.org), which represents them as well as "traditional" directors.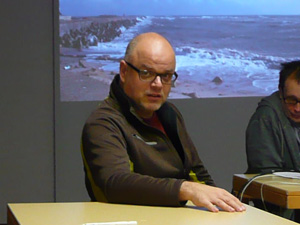 Then too, we like to mix nationalities and approaches so as to explore the wealth of European filmmaking. Films certainly do not get made the same way in England as in France. And that is precisely what we investigate edition after edition. On the one hand, Juniors and Seniors bring expertise to the projects and, on the other, they earn a deep understanding of how other European countries make films. We cultivate differences, we don't eliminate them. "The script on the table is your Bible but, as we all know, you can read the Bible in different ways," comments Head of Studies Denis Rabaglia, who hosted the workshop since its first edition back in 2007.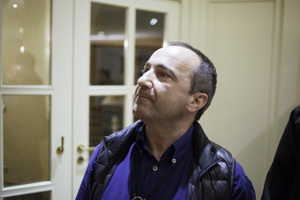 "I'm a production animal," Senior Line Producer Marco Valerio Pugini (Italy) likes to say about himself. He is also the man behind the TV series Rome, which was produced at the beginning of the TV series' new era, when HBO got involved. Nowadays, Marco focuses on his own productions and develops concepts for movie tourism: "There's so much you can do in product placement and territorial marketing as a line producer. It's a vastly underestimated field."
"At this stage of my career, I would prefer a TV series to any feature film," says Senior Line Producer Michael Schwarz (Germany), the man behind BORGIA by Tom Fontana. This prestigious European TV series, which went on for three seasons, drastically changed his experience of filmmaking. "The series has been viewed by some 50 million people all over the world. F…! And I did it! "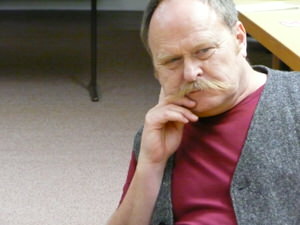 Their Scandinavian colleague however, Senior Line Producer Kaare Storemyr (Norway), sticks to feature film assignments. But then why wouldn't he? He gets among the best Scandinavian projects around. He brought back home the major epic KON TIKI, a nominee for the Academy Award for Best Foreign Film 2014. "We are all control freaks, that's in our nature as line producers," admits the man who has taught at the workshop for the past six editions.
Another "pillar" of Production Value is Senior Assistant Director Stuart Renfrew (England), by now with the workshop for the seventh time in a row. "I wouldn't miss it for anything in the world: it's the best way to start the new year!" Being an AD with vast experience and Stephen Frears' regular guy, Stuart is constantly being asked by the Junior ADs how to handle this or that critical situation on set. "We are not schoolmasters. I like to remind people that we are all adults and that we have all signed up to make that script," the Scotsman throws out at them.
His colleague for this year's edition was Senior Assistant Director Scott Kirby (Germany). Scott's career gave him the opportunity to work mostly on bigger projects linked to such European auteur directors as Marjane Satrapi, Anton Corbijn and Julie Delpy. He supported the workshop participants and their vision throughout the process. And whereas most of his workshop colleagues are Europeans who often work for the Americans, Kirby is the American who assists the Europeans!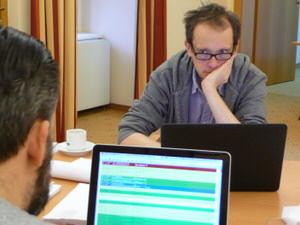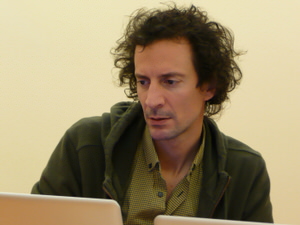 Two additional tutors are crucial to the Production Value process. VFX Consultant Frank Schlegel (Germany) — Model Unit Supervisor for the most recent worldwide hit THE GRAND HOTEL BUDAPEST by Wes Anderson — is the one without whom the workshop would not be possible. Indeed, most projects can only be scheduled and budgeted if VFX solutions are in place, and Frank takes care of that. He strongly believes that "Post-production is no longer a step, it's a state of mind." "Post starts in prep!" adds Post-production Consultant Hans Van Helden (Netherlands), who makes sure Junior Line Producers have post-production budgets in line with the most up-to-date digital workflows and techniques.
But all these Seniors are only the coaches. The real "stars" of Production Value are the Juniors. They are young but already experienced assistant directors and production managers/line producers, with a name in their respective country but craving to find out more about scheduling and budgeting at the international level. This is the first year where all six teams came close to the budgets suggested by the producers, by more or less 10-15%. In some cases, it may result in hundreds of thousands of Euros but, considering the speculative nature of the exercise, this in itself can be considered a success.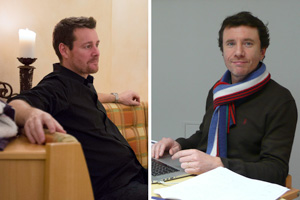 Dealing with a very complex script involving aerial scenes, underwater sequences and period drama, SAINT-EXUPERY – THE REVELATION, based on the mysterious death of the writer-aviator, was in the hands of Scandinavian duo Junior Assistant Director Frida Hvenmark (Sweden) and Junior Line Producer Pàl Roed (Norway). Their effort resulted in a below-the-line budget of more than 20 million Euros, making the French Writer-Producer team Arnaud Le Roch & Olivier Lambert very happy: "It was a fantastic experience; we never thought we would come that close and be that precise."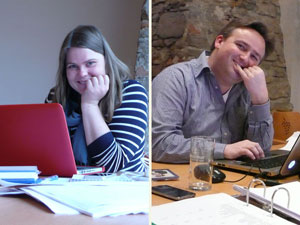 Despite its being on another scale, the Norwegian project THE LION WOMAN — based on a best-selling novel inspired by the true-life story of a woman born covered with hair — was quite a subtle puzzle for Junior Assistant Director Rasa Rimkutè (Lithuania) and Junior Line Producer Michiel Bartels (Netherlands). Brought by Norwegian Producer Marcus Brodersen, it involved children, prosthetic make-up, different locations and languages and, always tricky, changing seasons. The plan they came up with was new to the producer, who spontaneously admitted "that's the way we are going to make this film."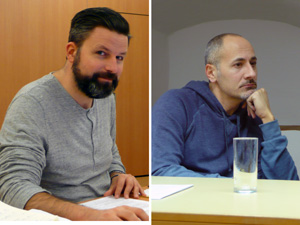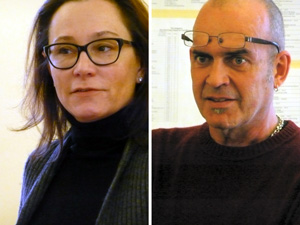 What was to be done with THE INSTIGATORS was not easy from the start. The team Junior Assistant Director Tobias Reiner (Sweden) and Junior Line Producer David Canelo (Spain/UK) first worked on a production assumption brought by Producers Alexandra Hoesdorff & Jean-Claude Schlim (Luxemburg), but that turned out to be much too complicated to implement. During the last two days, when the producers had joined the workshop, they started all over again, and ended up with a new, sound plan. This case shows that when a producer, a director, a line producer and an AD take the time to sit down together and investigate the material, this collaborative approach highly benefits to the project. And that is the exact philosophy Production Value strives to promote.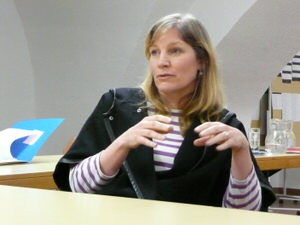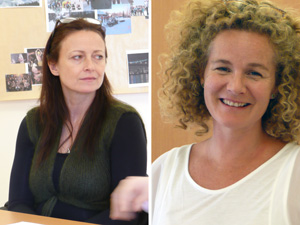 Producer Tracy Adam (UK) [right, in black] also experienced such a fruitful experience. Her company Lex Filmed Entertainment had brought projects to Production Value already back in 2011 and 2013. Teamed together, she and Director Katrina Syran (UK/Switzerland) [right] dug into the work of Junior Assistant Director Sonja Lévy (Switzerland) and Junior Line Producer Malin Söderlund (Sweden) [left] on THE LAST BACHELOR, an action-romantic comedy set in Alaska but to be shot in Canada. Luckily enough, their plan was immediately adopted by the Producer and Director, and the four women spent the last two days combining great laughs with intense work.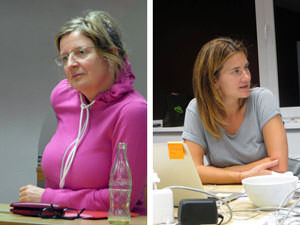 Another "last" project was THE LAST ENTRY, handled by Junior Assistant Director Barbara Skawran (Germany) and Junior Line Producer Linda Mester (Hungary). This futuristic thriller contained a number of complex action sequences, enhanced by the powerful vision of its Director Adolfo Martinez Perez (Spain), a storyboard artist and second unit director working in Hollywood. Only a precise breakdown, at times almost shot by shot, rendered the project's scheduling and budgeting feasible: it was a real challenge for the entire team, Juniors and Seniors.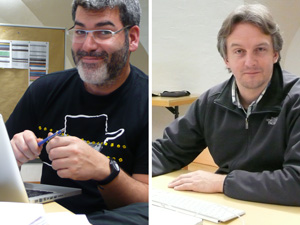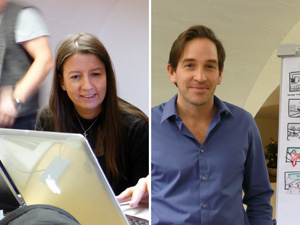 Junior Assistant Director Oscar de Grado (Spain) and Junior Line Producer Olivier Abrassart (Belgium), both assigned to PRISONERS' DILEMMA, a sci-fi action film, garnered much applause at the presentation of this edition's results for the last but certainly not the least of the projects submitted. The Juniors turned themselves into apprentice production designers, imagining the dimensions of the main spaceship, mapping it out, even drawing some basic sketches to ensure proper understanding of the action flow. This approach amazed their respective Seniors and totally impressed British Producer Rebecca Knapp and Writer-Director Mark Anthony Galluzzo, who could never have dreamt of such input.
At Production Value, we take every project brought to us very seriously, just like we cater to every Junior enrolled. We provide a tutoring staff of 9 for 12 participants. Every step of the 3-week process is clearly monitored. It's hard work and great fun. Juniors love it: it affords them, often for the first time in their professional life, a chance to be in charge of designing how a complex feature film is to be made. Seniors love it: they themselves are challenged, and get to break new grounds. Producers and Directors love it: they can see how much care and thought is being put into their "babies," and that this will help them grow. We love films, and our way of serving this great art is to empower those who love making them.
Projects
THE LAST ENTRY Spain / Germany
Junior Line Producer
Linda Mester — Hungary
Junior Assistant Director
Barbara Skawran — Germany
Senior Line Producer
Marco Valerio Pugini — Italy
Senior Assistant Director
Stuart Renfrew — UK
VFX Supervisor
Frank Schlegel — Germany
Guest Participant
Adolfo Martinez Perez (director)
THE LAST BACHELOR UK / Canada
Junior Line Producer
Malin Söderlund – Sweden
Junior Assistant Director
Sonja Lévy – Switzerland
Senior Line Producer
Marco Valerio Pugini – Italy
Senior Assistant Director
Scott Kirby – Germany
Guest Participants
Tracey Adam (producer)
Katrina Syran (director)
THE LION WOMAN Norway / Sweden / Germany
Junior Line Producer
Michiel Bartels – Netherlands
Junior Assistant Director
Rasa Rimkuté – Lithuania
Senior Line Producer
Michael Schwarz – Germany
Senior Assistant Director
Scott Kirby – Germany
Guest Participant
Marcus Brodersen (producer)
SAINT-EXUPERY – THE REVELATION France / Germany
Junior Line Producer
Pàl Roed – Norway
Junior Assistant Director
Frida Hvenmark – Sweden
Senior Line Producer
Michael Schwarz – Germany
Senior Assistant Director
Stuart Renfrew – UK
VFX Supervisor
Frank Schlegel – Germany
Guest Participants
Arnaud Le Roch (writer & producer)
Olivier Lambert (writer & producer)
PRISONERS' DILEMMA UK / Ireland / Germany
Junior Line Producer
Olivier Abrassart – Belgium
Junior Assistant Director
Oscar de Grado – Spain
Senior Line Producer
Kaare Storemyr – Norway
Senior Assistant Director
Scott Kirby – Germany
VFX Supervisor
Frank Schlegel – Germany
Guest Participants
Rebecca Knapp (producer)
Mark Anthony Galluzzo (writer & director)
THE INSTIGATORS Luxemburg
Junior Line Producer
David Canelo – UK
Junior Assistant Director
Tobias Reiner – Sweden
Senior Line Producer
Kaare Storemyr – Norway
Senior Assistant Director
Stuart Renfrew – UK
VFX Supervisor
Frank Schlegel – Germany
Guest Participants
Alexandra Hoesdorff (producer)
Jean-Claude Schlim (line producer)
Production Value 2014 was proposed by
FOCAL
Norvegian Film Development
Austrian Film Institute
Swedish Film Institute
with the support of
The MEDIA Programme