Production Value 2013 in Switzerland Summary | Full Report
The Air was Pure, the Kick was High
The 7th edition of our Production Value workshop was held in Sierre, January 12-20, 2013. Six Junior Line Producers, 6 Junior Assistant Directors, 10 Directors and Producers and 7 Seniors as Tutors, coming from 13 European countries, gathered together for this workshop, which focused on the process of budgeting and scheduling six feature films in development. The workshop — co-produced by FOCAL (Switzerland), the Norwegian Film Institute (Oslo), the Swedish Film Institute (Stockholm) and the Austrian Film Institute (Vienna) — was supported by MEDIA TRAINING, a program of the European Union.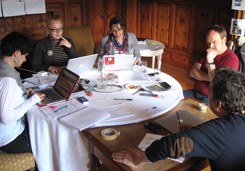 This edition — bringing a 4-year partnership agreement with MEDIA TRAINING to its end — took place in the heart of the Swiss Alps, at a beautiful and entirely restored manor at the exclusive disposal of the workshop group: the Château Mercier. In the history of Production Value, this was the first time we revisited the same country as we did for the very first edition in 2007, which also took place in Switzerland (in Yverdon).
Routine threatens every workshop, especially when, as for Production Value, it has been such a success every year. Will we have a handful of talented Juniors for this year's edition? Will the Head of Studies be able to compose a balanced group of tutors, alternating between "pillars" and newcomers? Will he find six complex and challenging projects from all over Europe to give the entire group something in which to sink its teeth? It is not the workshop's excellent reputation on the market of European training initiatives that is at stake; no. Rather, what is at stake is the fact that for everybody involved, the workshop must be an experience like no other.
"I've been here for 6 editions in a row. I only missed the first one and I regret it!", says Senior Assistant Director Stuart Renfrew. The Scotsman is undoubtedly a "pillar" of Production Value. His vast experience as one of the top UK assistant directors includes a 6-film partnership with Stephen Frears, up until the 2012 season of GAME OF THRONES. In his case study, he described the latter as "the must unbelievable machine to shoot drama ever conceived," with several sets and crews always ready-to-shoot and a fully mobile cast and directing team. "An experience just like Production Value is for me every year," concluded Stuart.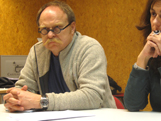 Another "pillar" is Senior Line Producer Kaare Storemyr, with the workshop for the fifth time in a row. The Norwegian has been very busy in recent years shooting some of the most important Scandinavian films of the decade, including Academy-Award Nominee KON-TIKI. "Another great edition, maybe the best" he confessed to Head of Studies Denis Rabaglia, who could only comment: "Don't know why this year was so good, so special! Maybe it's because of its being in my home country, maybe it's the fresh air!".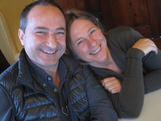 The third regular tutor of this year's edition was Senior Line Producer Marco Valerio Pugini of Italy, famous in the TV-series world as the man who produced ROME at a time when long-running international TV series were not a model, and when everything had to be invented. Marco was kept very busy this year with two very challenging coaching projects at the workshop, while making a deal with Sony/Showtime to line-produce the pilot of a new controversial TV series by Ridley Scott, THE VATICAN.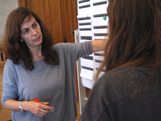 The only female Tutor this year was Senior Assistant Director Daniela Forn Mayor, who had been with the workshop in Austria back in 2010. This gentle Spanish lady was very pleased to return to a process that she would have loved to follow herself as a young assistant director. Production Value is actually the only master class workshop available to European young assistant-directors and young line producers, and it proposes a unique process in which a real project in development gets scheduled and budgeted by the team assigned to it.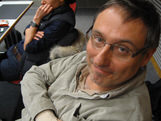 This year's major case study was actually one of Daniela's films: THE IMPOSSIBLE. A film of epic dimensions, with innovative special effects and great emotional impact. But there was a bonus to it: VFX Supervisor Felix Bergès - in charge of bringing the tsunami alive in the film – was also present as a tutor to provide VFX solutions for all 6 projects. If none were as difficult as THE IMPOSSIBLE, there was quite a lot of work around for him: "Oh my God! It's a factory, here!". Yes, Felix, a factory of schedules and budgets.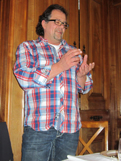 Senior Line Producer Oliver Lüer was the newcomer to the workshop. "Finally, I get the chance to get in myself", is what he said after having heard so many good things about the workshop. With German phlegm, he slipped into the process like a fish into water.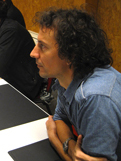 He shared with the group his experience with Roman Polanski in connection with two films — THE PIANIST and THE GHOST WRITER.
Another newcomer was Hans Van Helden, a Dutch post-production supervisor who was brought in for only two days to coach the post-production budgets of each film. It was the first year that such targeted tutoring was integrated into the training process, but the never-ending changes in digital techniques required it.
All these tutors are merely the coaches. The real stars of Production Value are the Juniors. They are young but already experienced assistant directors and production managers/line producers, with a name in their respective country but craving to find out more about scheduling and budgeting at the international level. And this year, more than in the past editions maybe, they accomplished the task with immense commitment and great results: it was the first edition in which the budgets and schedules of 5 out of 6 projects came close to the producers' and directors' expectations.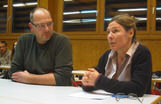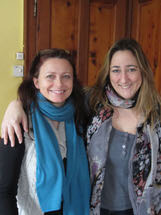 The task of doing this for the project ALTER EGO on a budget of about 20 million USD was huge, according to Junior Line Producer Gabi Lins (Germany). For producers Tracey Adam & Sacha Hecks (UK), both returning to the workshop with a project after the 2011 edition, the results were amazingly close to their expectations, considering that it all had to be shot in Toronto, and that the script involved the same actor playing two characters. Junior Assistant Director René Jonkers (Netherlands) had a tough time scheduling it, since never before had he been called upon to juggle with so many parameters. "I'm so happy that it all makes sense in the end," he commented gazing at his colored schedule.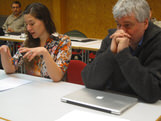 A much smaller project but with many twists in its unfolding was THE GIRL KING. The film was brought by Finnish director Mika Kaurismäki and Swedish Producer Charlotte Most and was assigned to Junior Assistant Director Lucie Dolezalova (Czech Repblic) – the youngest Junior we ever had - and Junior Line Producer Einar Loftesnes (Norway). The film was not so complex in itself, but was made difficult by a financial strategy that forced the spending to be allocated in an unusual way. This rendered the scheduling more complex than what a first read suggested. "It's still the best plan we ever had and I'm very grateful to all of you. I have worked more than 10 years on this script, but your approach makes it possible. I had heard only good things about Production Value and will confirm them," said Mika Kaurismäki in the final evaluation.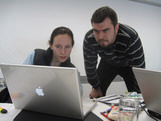 Within Production Value, it is rare that auteur's films are submitted, because these films mostly do not offer enough "meat" for our Juniors. So THE WATCHMAKERS' EYES was an exception: an unusual supernatural thriller playing with different timeframes mixed in a sophisticated way. Understanding the script in depth in order to properly schedule it was Junior Assistant Director Christine Rogoll's task (Germany). She loved the script so much that the exercise triggered strong emotions; moreover, the presence of the writer-director Aitor Zabaleta Alberdi (Spain), a visual artist himself, rewarded all her efforts. "What you do here is so important," commented his producer Eduardo Carneros (Spain), while looking over the budget prepared by Junior Line Producer Kaspar Kaljas (Estonia) – who replaced another Junior just seven days before the workshop!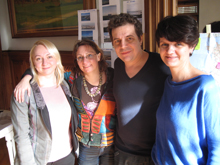 Another tricky one turned out to be DOG, by writer-director Jacob Berger and producer Caroline Velan (both from Switzerland). The action, taking place across four countries, involves a dog as the lead character. The original plan was to shoot it as a kind of low-budget movie, but the contingencies of the script turned out to be more complex than expected, leading to greater expenses. It was the Eastern Europe duo Junior Assistant Director Julija Mickenaite (Lithuania) and Junior Line Producer Anneli Lepp (Estonia) that was assigned to the project, which they qualified "a challenge by all means, far away from our experience, far way from our countries. So much to research, so much to calculate". Thanks to the deep commitment of the director and producer, the team was able to downsize the budget to an achievable level. This part of the process is a key element of Production Value: we don't want to deliver schedules and budgets made in a vacuum; we want them to be fine-tuned by the producer and director at the workshop. For the Juniors, this part represents the climax of more than a month of hard work.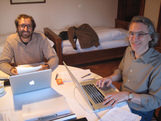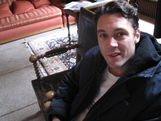 An excellent example was THE LAST KING. It was handled by Junior Assistant Director Nacho F. De Tejada (Spain) and Junior Line Producer Gottlieb Pallendorf (Austria). "There is this central action scene where, initially, none of us knew how to do it…," referring to the entire team of Juniors and Seniors. Gradually breaking it down and talking it through, they managed to find solutions for every challenge of this Norwegian epic drama brought by producer Henrik J. Henriksen on behalf of Paradox, a Norwegian production company that already contributed two other projects to past editions. Here again, close collaboration with the producer during the last two days brought the results close to perfection.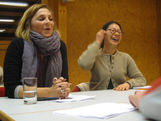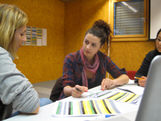 If in this edition we had the youngest Junior ever, we also had the most experienced one. "This girl is a machine. Give her a script today, she will give you a schedule tomorrow," said Senior Stuart Renfrew about her Junior Laura Mihartescu (Germany). The period piece VIVLING was therefore less of a challenge for her than for team-partner Junior Line Producer Man Chiu Lung Carlson (Sweden). If the total costs calculation involved in the actress Vivien Leigh's biopic was massive for Carlson, Laura could absorb the scheduling approach from her British (Scottish) Senior, confirming the adage that the more you know, the deeper you can go. For writer-producer Sameera Steward (England), the pair was an amazing team: "I learned so much about filmmaking in this two days with you, girls!".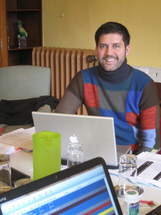 The party featuring the final evaluation was an emotional event. Everyone had their moment and no one wanted to leave. Even Observer Yves Bouzaglo (Switzerland) felt he had received so very much from everyone. The truth is that Production Value unleashes forces — forces to convince, to take command. And it also unleashes love for filmmaking. Pragmatically speaking, it is most effective. A far cry from the Cannes Film Festival, from all the glory sought out there by directors and star, the love entailed here is a question of filmmaking's most essential aspect: that of making sure everything is properly planned so that creativity on the set can blossom, and so that, as a European industry, we can all be proud not only of the films themselves, but also of the way they are made.
That takes a soaring kick.
Projects
VIVLING (UK / South Africa)
Junior Line Producer
Man Chiu Leung Carlson – Sweden
Junior Assistant Director
Laura Mihartescu - Germany
Senior Line Producer
Oliver Lüer - Germany
Senior Assistant Director
Stuart Renfrew - UK
Producer
Sameera Steward - UK
ALTER EGO (UK / Canada)
Junior Line Producer
Gabi Lins - Germany
Junior Assistant Director
René Jonkers - Netherlands
Senior Line Producer
Marco Valerio Pugini - Italy
Senior Assistant Director
Daniela Forn - Spain
VFX Supervisor
Felix Bergès – Spain
Producer
Tracey Adam - UK
Producer
Sascha Hecks - UK
Observer
Yves Bouzaglo – Switzerland
THE LAST KING (Norway / Sweden / Denmark)
Junior Line Producer
Gottlieb Pallendorf – Austria
Junior Assistant Director
Nacho F. Tejada – Spain
Senior Line Producer
Marco Valerio Pugini – Italy
Senior Assistant Director
Stuart Renfrew – UK
VFX Supervisor
Felix Bergès – Spain
Producer
Hendryk Henriksen - Norway
THE WATCHMAKER'S EYES (Spain / UK / Germany)
Junior Line Producer
Kaspar Kaljas – Estonia
Junior Assistant Director
Christine Rogoll – Germany
Senior Line Producer
Kaare Storemyr – Norway
Senior Assistant Director
Stuart Renfrew – UK
Producer
Eduardo Carneros - Spain
Writer & Director
Aitor Zabaleta Alberdi - Spain
THE GIRL KING (Sweden / Finland / Germany / Canada)
Junior Line Producer
Einar Loftesnes - Norway
Junior Assistant Director
Lucie Dolezavola – Czech Republic
Senior Line Producer
Oliver Lüer - Germany
Senior Assistant Director
Daniela Forn - Spain
Producer
Charlotte Most - Sweden
Director
Mika Kaurismäki - Finland
DOG (Switzerland / Spain / France)
Junior Line Producer
Anneli Lepp – Estonia
Junior Assistant Director
Julija Mickenaite - Lithuania
Senior Line Producer
Kaare Storemyr - Norway
Senior Assistant Director
Daniela Forn - Spain
Producer
Caroline Velan – Switzerland
Writer & Director
Jacob Berger – Switzerland
Production Value 2013 was proposed by
FOCAL
Norvegian Film Development
Austrian Film Institute
Swedish Film Institute
with the support of
The MEDIA Programme
Canton du Valais