Production Value 2009 in Norway
"Film is fear! First you're afraid not to make the movie. And then, you are afraid to make it!"
"We have to get this budget down — let's start by taking out everything that flies!"
"Directors are like kids. They want toys, but they don't want to know how much their toys cost!"
"You're an AD. You've got to know where you stand in the food chain! "
- A Senior: "I didn't get in to the film business to become an asshole!"
- His Junior: "So what happened?"
"The intentions come from the director, but the production must find the creative process to realize these intentions".
"Line Producing is 33% accounting, 33% planning, 33% psychology."
"Treat people well and inspire people to be their best."
"Budgeting is a science, it's all in the script!."
From The Global Vision To The Last Detail
The third edition of the Production Value workshop took place in Vikersund (Norway) from 10 to 17 January 2009. Six Junior Line Producers, 6 Junior Assistant Directors, 13 Directors and Producers and 6 Seniors as Tutors, coming from 15 European countries, gathered together for this workshop focusing on the process of budgeting and scheduling 6 feature films in development. The workshop — co-produced by FOCAL (Switzerland), Erich Pommer Institut (Germany), Norwegian Film Institute (Oslo), and the Austrian Film Institute (Vienna) — was supported by MEDIA TRAINING, a program of the European Union.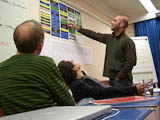 Production Value is not like any other training scheme. It addresses the issues related to making feature films from the perspective of the assistant director and the line producer/production manager. A good part of the training covers the actual craft of scheduling and budgeting a script. But above all it is THE place for assistant-directors and line producer/production managers to learn about the responsibilities and creative demands of their positions.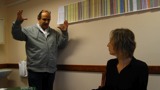 The third edition of Production Value, set in cold Norwegian winter — West of Oslo — was once again an occasion to stress that filmmaking is a collaborative process that must creatively combine its various components. The vision of the director and the strategy of the producer can only be weakened by the absence of true involvement from the so-called "operational" partners. But to sit at the table as equal collaborators, these "operational" partners must immerse themselves in every single detail of their assignment. "Nothing from the script should escape your vigilance. Everything must be scrutinized through a systemic approach: what are the practical implications of the vision at stake?" insisted in his opening speech Denis Rabaglia — a director himself — taking the helm as Head of Studies for the third time.
Returning-from-2008 Senior Assistant Director Stuart Renfrew (Bridget Jones' Diary, The Queen, Cheri) seconded the point: "When you're reading a script, it doesn't always appear how complicated it might be. Have you thought it through? When I read a script now, I really take time. If I don't understand something, then I make a note for a question. Think about what may happen if you realize on set that you really don't understand what's happening?".
The entire session revolved around this demanding attitude. It was as if our 6 tutors — 3 Senior Line Producers, 2 Senior 1st ADs and 1 Visual Effects Advisor — were all cut from the same cloth: they kept insisting and demonstrating that only hard work can lead to full control of the production.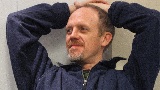 For German-based American Senior Assistant Director Scott Kirby (V for Vendetta, The Bourne Ultimatum, STORM), this discipline comes out of motivation: "It all boils down to the soul of the film. The most important aspect is who I work for, rather than the prestige of the project. I have to feel the project is giving me something in return for my time and sacrifice. My work on European films has taught me to embrace this. I try to carry this over to the big Hollywood projects."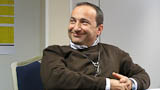 Italian Senior Line Producer Marco Valerio Pugini (MIRACLE AT ST-ANNA, ROME TV series) admitted, "I don't like risk, but I love the challenge. I enjoy finding the opportunities to defeat and solve the problems that arise". He stressed that if you make a plan too easily achievable, the film will suffer; but if you reach too far, then you'll come up short. You have to find the balance.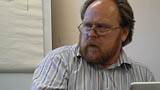 All tutors agreed upon the fact that co-production and shooting abroad pose the greatest risks. For Norwegian Senior Line Producer Kaare Storemyr (ABERDEEN, I AM DINA, WOLF SUMMER) — who has extensively shot Norwegian films abroad — one must "Forget your expectations about other cultures' methods, because your assumptions are wrong. Different methods are not necessarily better or worse, they're just different. Rather, you should anticipate the differences and then prepare for mediating. One will find that there are actually more similarities than differences."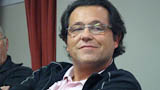 Returning-from-2007 Spanish Senior Line Producer Jose Luis Escolar (AGORA, KINGDOM OF HEAVEN) couldn't agree more: "I think that most of it can be solved through dialogue. We need to define how we systematize the process. Lawyers complicate the process and they don't know the practicalities. Understanding labour laws is a key element. A line producer must always see the big picture against the details".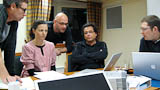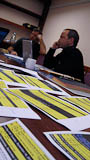 But Production Value is not only a forum to discuss professional issues; first and foremost it is a process of hard work starting almost a month before the workshop. Around December 15, each of the 12 Juniors is assigned one script in development/financing provided by a European team producer/director. Juniors are also teamed —with 1 Junior Assistant Director and 1 Junior Line Producer to a team—and each team is assigned a separate film whose cultural background is different from their own (for instance, a Norwegian project was given to a Estonian 1st AD and a British Line Producer). Each team is equipped with the latest versions of EP Budgeting and EP Scheduling software. Seniors move around from one room to the next, one project to the next, coaching the participants on an individual basis. Once a day, the entire group meets for a plenary session, where a case study is presented by a Senior.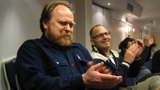 The last 2 days of the workshop, the Producers and the Directors of each project join the process. This creates real pressure on both camps: participants and tutors are anxious about the Producers' and Directors' reactions and the latter are anxious about the numbers… Each option is then discussed, each schedule is revised, and each budget is adjusted; day by day, line by line.
Without breaching the confidentiality of the projects, let us take a tour of the teams involved in the Production Value workshop to get an idea of the process.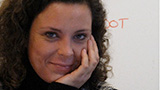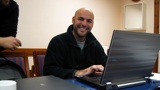 "GLOBAL BEACH" is a very unusual comedy set after the planet has been flooded and a glass house on the top of a mountain has become… an island! Expertise and imagination were needed for Junior Line Producer Lina Pedersen (Norway) — at left — and Junior Assistant-director Pierre Ellul (Malta) — at right — to solve all the issues involved in this project, including organizing the shoot of a story needing both winter/snow and summer/sea looks. Producer Peter Reichenbach (Switzerland) — bottom left — was amazed by their level of commitment: "They took everything into account and together, we managed to bring the budget total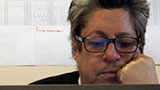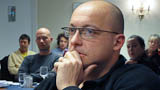 down without hurting the core of the project". Now Director Fulvio Bernasconi (Switzerland) — at right — knows how his dream can come true on screen!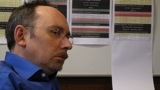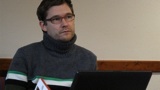 Another far away trip was "TOP OF THE WORLD" brought by a very experienced producer/director team, namely Petter J. Borgli — bottom left — and Hans Petter Moland (Norway)— bottom right — . Set in Greenland, the main question was about shooting there entirely or partly, considering the absence of logistics, the extreme conditions and a native cast. All possibilities were investigated thoroughly by Junior Line Producer Leopold Wurm (UK) – top left – and Junior Assistant-director Ralf Siig (Estonia) – top right –. "Though we knew what it is to shoot in the far north, we have saved an awful lot of time being here" said the Producer. "The project appears impossible by its nature, but its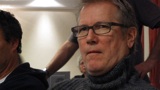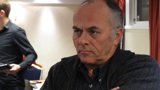 important to not squash the idea without researching it properly. The final option is demanding but feasible", added the Director.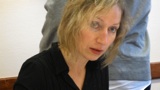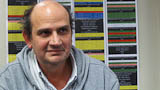 Another pair wandering in Greenland was Junior Assistant-director Dörte Schneider (Portugal/Germany) – at left – and Junior Line Producer Michael Kissaun (Germany/Malta) – at right. Their daily occupations are quite far from their assignment: Dörte makes commercials in Portugal and Michael is a very experienced TV assistant-director in Germany. Both are eager to grow in their respective careers. They worked hard on "THE HOUSE OF MY FATHERS", adapted by filmmaker Ineke Smits (Netherlands) from a Danish book. Here again, there were many options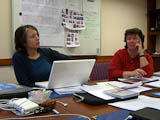 regarding possible locations but all had to fit a limited budget and a complex 4-country co-production. "The plan they came up with is the best we can get. The budget still needs some adjustments but it's a miracle with such a complex project to end up only half-a-million Euros above the producer's expectations " said Line producer Jet Cristiaanse's (Netherlands) at the final evaluation round.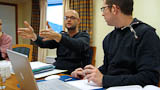 This was not the situation with "UNTITLED LOVESTORY" — a crazy offbeat dark comedy with at least one stunt or special effect in every scene. "I have never seen something like that, I must say", sighed VFX Advisor Nicolas Imhof (Switzerland), the regular special effects consultant attached to the workshop. By the way, Nicolas was busy this year with almost every single project involving a combination of visual effects and physical effects. "We couldn't complete our task without him. This is why Production Value is so good, it's very close to the real thing!", said Jose-Luis Escolar.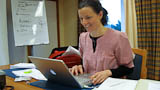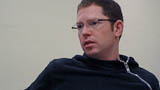 Both Junior Line Producer Karolina Heimburg (Sweden) – at left – and Junior Assistant-director Jim Probyn (Luxemburg/UK) – at right – are sound professionals but "UNTITLED LOVESTORY" was mind-blowing in many respects "The more we investigated it, the bigger it became: there was almost one schedule or budget consequence behind every line!". This wasn't always good news to Director Peter Koller (Austria) — at left —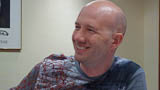 and his producers Thomas Strasser & Contessina Bauer (Austria) but they will continue with the project by rewriting and pre-visualization.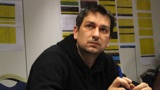 Austrian project "DRAKEN" had a smoother landing than its fellow citizen. Junior Line Producer Marianne Van Hardevelt (Netherlands) – top left – and Junior Assistant Director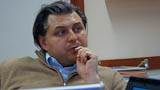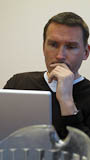 Dragan Juric (Croatia) – top right – stepped into this comedy about a bunch of old airplane pilots knowing that Producer Sascha Mann (Austria) — at left — and Co-Director Dirk Meints (Austria) — at right — had already worked hard on it. Thanks to a strong collaboration in the last few days, the four ended up "Just about 200'000 Euros higher than my expected figure but with significant new solutions", admitted the Producer. "And in an extremely creative and good atmosphere" added the Director.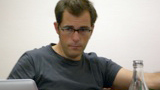 Should there be a winner to the Production Value process, then the Belgian project "THE DOLPHIN BOY" would be it! The team of Junior Assistant-director Joost Van Schie (Netherlands) – at left – and Junior Line Producer Florian Nussbaumer (Switzerland) – at right –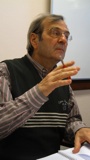 ended up with the exact figure mentioned by Producer/Director Marc Lévie (Belgium) — at left — and his Line Producer Frédéric Chanteux (Belgium) — at right —
in their original information package. This was achieved by an intense rewriting since this family film contained just about everything one can be worried about: children on water, many locations, animals and special effects.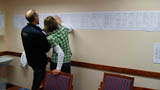 Production Value 2009 was the first edition where every project was represented by its Producer AND its Director. Both stayed longer than in previous years and therefore got deeper into the options taken and the numbers calculated. As a result, the whole process was even more effective than the past editions: 5 out the 6 projects left the workshop with the final plan for the film, drafted by the Juniors, supervised by the Seniors and approved by the filmmakers.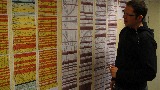 The workshop has evolved over these 3 editions: participants and tutors get their assigned projects earlier, the information packages from the producers and directors are more precise, Skype conferences are organized before the workshop, a secure internet connection is used to download all files. "This is what makes Production Value so unique: it's a real simulation process, with up to 6 brains trying to work out how to make this film within the given conditions.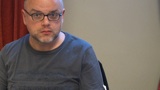 The workflow of professional and cultural exchanges is constant. My job is to make sure the workshop remains process-oriented because many participants are so committed that they want to make it perfect, as if they were shooting tomorrow!", concludes the Head of Studies.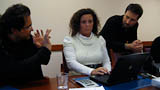 Another addition this year was the presence of an official observer: Werner Zappe, in charge of film funding at the Austrian Film Institute, was able to follow the different options and processes of 3 different projects. He has gained an invaluable insight on how budgets and schedules are built up. "It will help me to understand better the projects going through my hands."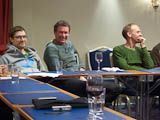 After 3 editions, Production Value and its partners now enjoy a 3-year contract with MEDIA TRAINING. Enough time to monitor, plan and grow the initiative, so that it becomes one big network of "operational but creative" professionals, enlarging their own experience and their understanding of the experience of others. So that it makes a significant contribution to European films with their limited budgets by showing how to make the best of what you have in a collaborative effort.
Projects
| Project GLOBAL BEACH | SWITZERLAND / GERMANY |
| --- | --- |
| Junior Line Producer | Lina Pedersen — Norway |
| Junior 1st AD | Pierre Ellul — Malta |
| Senior Line Producer | Jose-Luis Escolar — Spain |
| Senior 1st AD | Scott Kirby — Germany |
| Producer | Peter Reichenbach — Switzerland |
| Director | Fulvio Bernasconi — Switzerland |
| Project TOP OF THE WORLD | NORWAY |
| --- | --- |
| Junior Line Producer | Leopold Wurm — UK |
| Junior 1st AD | Ralf Siig — Estonia |
| Senior Line Producer | Kaare Storemyr — Norway |
| Senior 1st AD | Sturat Renfrew — UK |
| Producer | Petter J. Borgli — Norway |
| Director | Hans-Petter Moland — Norway |
| Project THE HOUSE OF MY FATHERS | NETHERLANDS / GERMANY / BELGIUM / NORWAY |
| --- | --- |
| Junior Line Producer | Michael Kissnaun — Germany/Malta |
| Junior 1st AD | Dörte Schneider — Portugal/Germany |
| Senior Line Producer | Kaare Storemyr — Norway |
| Senior 1st AD | Scott Kirby — Germany |
| Producer | Denis Vaslin — Nertherlands |
| Line Producer | Jet Cristiaanse – Netherlands/ Spain |
| Writer & Director | Ineke Smits — Netherlands |
| Project UNTITLED LOVESTORY | AUSTRIA / SPAIN / GERMANY |
| --- | --- |
| Junior Line Producer | Karolina Heimburg — Sweden |
| Junior 1st AD | Jim Probyn — Luxemburg/UK |
| Senior Line Producer | Jose Luis Escolar — Spain |
| Senior 1st AD | Stuart Renfrew — UK |
| Producers | Thomas Strasser — Austria |
| | Contessina Bauer — Austria |
| Writer & Director | Peter Koller — Austria |
| Project DRAKEN | AUSTRIA / GERMANY |
| --- | --- |
| Junior Line Producer | Marianne Van Hardeveld — Netherlands |
| Junior 1st AD | Dragan Juric — Croatia |
| Senior Line Producer | Marco Valerio Pugini — Italy |
| Senior 1st AD | Stuart Renfrew — UK |
| Producer | Sascha Mann — Austria |
| Co-writer & Co-director | Dirk Meints — Austria |
| Project THE DOLPHIN BOY | BELGIUM / PORTUGAL / NETHERLANDS |
| --- | --- |
| Junior Line Producer | Florian Nussbaumer — Switzerland |
| Junior 1st AD | Joost Van Schie — Netherlands |
| Senior Line Producer | Marco Valerio Pugini — Germany |
| Senior 1st AD | Scott Kirby — Spain |
| Co-writer & Producer & Director | Marc Lévie — Belgium |
| Line Producer | Frédéric Chanteux — Belgium |
The PV09 Manifest
In the final plenum, all Producers and Line Producers agreed that it was time to have one European template for budgeting. Their conclusion was, "We should all lobby in this direction towards our respective film funders because we are wasting much too much time transferring data from one template to the other."
Production Value 2009 was proposed by
FOCAL
Erich Pommer Institut
Norvegian Film Development
Austrian Film Institute
with the support of
The MEDIA Programme
Medienboard Berlin-Brandenburg