Production Value 2012 in Malta
No Matter What — The Best Job in the World
The 6th edition of the Production Value workshop was held in Malta from 4 to 12 January 2012. Five Junior Line Producers, 6 Junior Assistant Directors, 10 Directors and Producers and 6 Seniors as Tutors, coming from 16 European countries, gathered together for this workshop, which focused on the process of budgeting and scheduling six feature films in development. The workshop — co-produced by FOCAL (Switzerland), the Norwegian Film Institute (Oslo), the Swedish Film Institute (Stockholm) and the Austrian Film Institute (Vienna) — was supported by MEDIA TRAINING, a program of the European Union.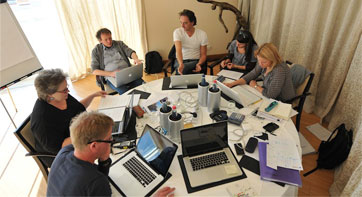 Production Value 2012
Having completed the rounds of all the countries co-financing the workshop with the first six editions, we decided to head off for a mild winter and chose Malta as the location for this 6th edition. For the last decade, Malta has attracted many numerous film & TV productions from all over the world, including Mediterranean Film Studios famous water tanks, where the workshop core group was photographed on January 9th.
Within Production Value, not only do we thoroughly investigate the art and craft of scheduling and budgeting films in Europe, but we are all ears. At this 6th edition, we listened to stories by Senior film professionals who have taken on the burden of completing films, sometimes against all odds. The logistic, economic and leadership difficulties with which they have had to struggle often defied the imagination of our eleven Juniors. The fact that they have survived and attained such renown is due to their capacity to keep their faith in a quality-oriented working process, and to their never surrendering to the all-too-easy excuse of "just being the AD" or "just being the money man."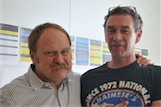 Senior Assistant Director Stuart Renfrew (the last Stephen Frears film, bridget jones's diary) had just left a nightmarish TV mini-series where apparently "everything was done with minimum preparation and mostly against common sense" before landing in Malta to coach his three Junior ADs. This hardy Scotsman is hard to beat down: "No matter how bad it is, it's my job to keep the thing moving along".
Such a situation is something that Senior Line Producer Kaare Storemyr, who has been involved in some of the finest Scandinavian films of the last decade (kon tiki, aberdeen, i am dina), tries to avoid at all cost. "Life is too short to do things you don't believe in." In the summer of 2011, he took up a major challenge with the making of kon tiki, an epic film telling the real story of a Norwegian raft that floated from Peru to Tahiti some fifty years ago. Most of it was actually shot in Malta with our workshop location manager Pierre Ellul, a former Junior AD in the 2009 edition, working for it as local line producer.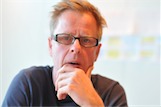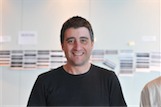 Another big challenge was Mathias Schwerbrock's shooting of don 2, the first German-Indian coproduction ever attempted. Handling the presence of some 150 Indian technicians coming to Berlin to shoot episode 2 of the don franchise was an extraordinarily complex cultural nightmare. The film was meant to be seen by some 500 million people or, as its Indian producers liked to describe it, a "A one-billion eyeballs film." Cultural issues arising between shooting the American and the European ways is something that Spanish Senior Assistant Director David Martínez Alvarez experienced during a big Hollywood film shooting in Seville. "Actually, I was amazed how little planning these guys did. But I guess they could afford anything, so my professional concerns didn't really matter in the end". He too is very attached to the Production Value process: "I was in the 2008 edition and you know what, I realized I missed the process. The workshop is a demonstration of how useful our job is to develop the projects from early days.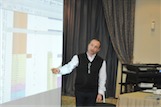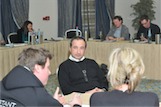 Senior Line Producer Marco Valerio Pugini is another of those great master planning minds that Americans love to hire when they come shoot in Italy. As a matter of fact, he was the man behind the two-season legendary TV series rome, almost entirely shot close to Cinecittà, in a specific back lot that he built to match the needs of the epic. Just like any other Senior, he is concerned about transferring his know-how to the younger generation, and "Production Value is the only workshop dedicated to ADs and Line Producers and believe it or not, we — the Seniors — learn as much as the Juniors here."
If the last assertion is probably correct, it has to do with the specific and unique process Production Value proposes to Juniors and Seniors: a team of four people, coming from four different countries, dealing with a real project in development brought in by a Producer and Director, with the mission of scheduling and budgeting the film. The process starts about three weeks prior to the actual workshop, and culminates during the last two days, with the Producer and the Director in attendance to discuss what we call "the results."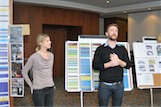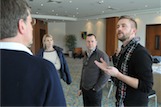 Malta was not only the location of the workshop but also the place where the for the boy project takes place. Brought in by writer-producer Christopher Mander and producer Darren Bender (UK), it was up to Scandinavian team Junior Line Producer Petra Jönsson (Sweden) and Junior Assistant Director Kristian Nissen (Norway) to handle this sheer war drama. Complex aerial sequences were the subject of endless discussions in the team, and the team took great pride in presenting the Producers with an innovative way to shoot those scenes.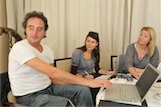 Another historical challenge was kenau, a Dutch Renaissance epic based on a real figure, including important battle scenes in Harlem. The project was handled by Junior Line Producer Therese Naustdal (Norway) and Junior Assistant Director Urska Kòs (Slovenia). The two investigated various options to rebuild the city and compared the tax incentives of Romania and Ireland. Dutch Director Maarten Trieurnet and Line Producer Jose Van Doorn were baffled by the results: "Although they gave us a heart attack when we saw the first figures, they forced us to look through their eyes at the script and see things we had not seen before."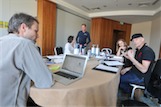 Based on the Swedish bestselling book with the same title, the centenarian w as a project travelling through time and space, forcing team Junior Assistant Director Agne Braziene (Lithuania) and Junior Line Producer Pia Rickman (Finland) to take up compact and inventive options to provide financing without seeking coproduction, in order to keep the film creatively consistent. "Those girls did a beautiful job," commented Swedish Line Producer Malte Forssel, with Director Felix Herngren admitting that "It's been a great way to go into the project."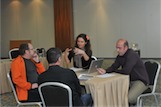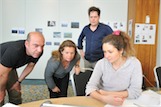 The project arijuna was a peculiar one. This war drama takes place in Colombia, in a remote area where no film crew can be brought in. The script also involved submarine scenes, interior and underwater, and all this on a somewhat tight budget. This was the raw material with which Junior Assistant Director Kaisa Roover (Estonia) and Junior Line Producer Zoltàn Nagy (Hungary) had to contend. When Producers Maja Zimmerman (Switzerland) and co-producer Wolfgang Mueller (Germany) arrived in Malta and sat down, the figures were too high, but thanks to a collaborative process, the four managed to bring it back very close to the original figure the Producers had in mind. A perfect example of close collaboration with so-called "operational partners," and which turned out to be very creative.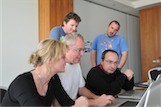 Junior Assistant Director Evert Van Setten (Netherlands) and Junior Line Producer Sandra Gigerl (Austria) were assigned to schedule and budget fata morgana, a mystery thriller in a supernatural vein. The action takes place in Paris, Vienna and Budapest, but was meant to be shot entirely in Belgium and Luxemburg. This proved to be a fantastic exercise greatly benefitting Producer-Director Juha Wuolijoki (Finland), who went back home with very detailed results in the way of production options.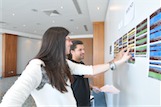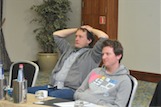 For the first time in the past six editions of Production Value, a last-minute cancellation made it impossible to have a complete team doing schedule and budget. So Junior Assistant Director Mike Lundin (Sweden) found himself alone to face the task of making a sensible plan for hound, an Irish fantasy epic, full of battles and creatures. It was with this project that German Visual Effects Supervisor Frank Schlegel (v for vendetta, speed racer) — our "private" VFX guy — became most involved, detailing each scene and making it possible for Mike to propose a sound schedule to Producer Tamsin Lyons (Ireland).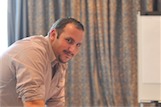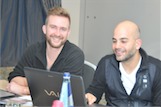 Two additional film professionals lent a hand to each team "backstage." As it has every year, Production Value filled two Observer slots for following the creative process and assisting the team in further research: British Film Guarantor Ali Moshref (UK) and local production manager Matthew Camilleri (Malta) collaborated on three film projects each. Ali even gave a talk on the completion bond, inciting passionate and controversial feedback amongst the participants.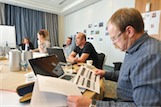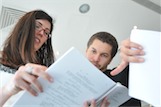 For the first year, two trade journalists were invited to join the last part of the workshop to explain their special contribution to European film industry training. Cineuropa Editor-in-chief Domenico La Porta published a special report on the initiative in English, as did Nina Sheu in German and French, in the Swiss trade paper Cinebulletin. Last but not least, this 6th edition was steered by Head of Studies Denis Rabaglia (Switzerland), whose commitment was celebrated by Senior Stuart Renfrew with "Denis, you have as much energy as Star Trek Enterprise!"
Projects
| FOR THE BOY | UK |
| --- | --- |
| Junior Line Producer | Petra Jönsson — Sweden |
| Junior Assistant Director | Kristian Nissen — Norway |
| Senior Line Producer | Marco Valerio Pugini — Italy |
| Senior Assistant Director | Stuart Renfrew — UK |
| VFX Consultant | Frank Schlegel — Germany |
| Guest Participants | Christopher Mander — UK (writer & producer) |
| | Darren Bender — UK (producer) |
| HOUND | Ireland / UK / Poland |
| --- | --- |
| Junior Assistant Director | Mike Lundin — Sweden |
| Senior Line Producer | Kaare Storemyr — Norway |
| Senior Assistant Director | David A. Martinez — Spain |
| VFX Consultant | Frank Schlegel — Germany |
| Guest Participant | Tamsin Lyons — Ireland (producer) |
| THE CENTENARIAN | Sweden |
| --- | --- |
| Junior Line Producer | Pia Rickman — Finland |
| Junior Assistant Director | Agne Braziene — Lithuania |
| Senior Line Producer | Mathias Schwerbrock — Germany |
| Senior Assistant Director | Stuart Renfrew — UK |
| VFX Consultant | Frank Schlegel — Germany |
| Guest Participants | Felix Herngren — Sweden (writer & director & producer) |
| | Malte Forssell — Sweden (line producer) |
| KENAU | Netherlands / Belgium |
| --- | --- |
| Junior Line Producer | Therese Naustdal — Norway |
| Junior 1st AD | Urska Kos — Slovenia |
| Senior Line Producer | Mathias Schwerbrock — Germany |
| Senior 1st AD | David A. Martinez — Spain |
| VFX Consultant | Frank Schlegel — Germany |
| Guest Participants | Maarten Treurniet — Netherlands (director) |
| | José Van Doorn — Netherlands (producer) |
| FATA MORGANA | Finland / Belgium / Luxemburg |
| --- | --- |
| Junior Line Producer | Sandra Gigerl — Austria |
| Junior Assistant Director | Evert Van Setten — Netherlands |
| Senior Line Producer | Marco Valerio Pugini — Italy |
| Senior Assistant Director | David A. Martinez — Spain |
| VFX Consultant | Frank Schlegel — Germany |
| Guest Participant | Juha Wuolijoki — Finland (producer & director) |
| ARIJUNA | Germany / Spain |
| --- | --- |
| Junior Line Producer | Zoltan Nagy — Hungary |
| Junior 1st AD | Kasia Roover — Estonia |
| Senior Line Producer | Kaare Storemyr — Norway |
| Senior 1st AD | Stuart Renfrew — UK |
| VFX Consultant | Frank Schlegel — Germany |
| Guest Participants | Maja Zimmermann — Switzerland (producer & co-writer) |
| | Wolfgang Müller — Germany (co-producer) |
Production Value 2012 was proposed by
FOCAL
Norvegian Film Development
Austrian Film Institute
Swedish Film Institute
with the support of
The MEDIA Programme