Production Value 2015 in Finland Summary | Full Report
Warriors of the Filmmaking Process
The 9th edition of the Production Value workshop was held in Helsinki (Finland), January 10-18, 2015. Six Junior Line Producers, 6 Junior Assistant-Directors, 10 Producers and 7 Seniors as tutors, coming from 14 European countries, gathered together for this workshop, which focused on the process of budgeting and scheduling 6 feature films in development. The workshop — coproduced by FOCAL (Switzerland), the Norwegian Film Institute (Oslo), the Swedish Film Institute (Stockholm), the Austrian Film Institute (Vienna) and for the first time by the Finnish Film Foundation (Helsinki) — was supported by CREATIVE EUROPE, a program of the European Union.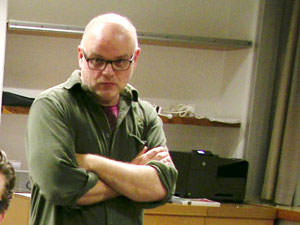 "Every January, I'm the luckiest director in the world: I start my year in the company of assistant-directors and line producers," said Head of Studies Denis Rabaglia on the opening day of the session. The line is humorous but it hides a notable truth: assistant directors and line producers are often misunderstood. They are seen as the ones who mess up the vision of the Director and his Heads of Departments by saying "no" due to financial or logistical issues. And indeed, more times that they would like, they do have to say "no." But why ? Why have they been appointed as safeguards, whereas they should be filmmakers' best allies?
Within Production Value, we strongly believe that the main cause is that no professional planning is made before the assistant director and the line producer get on board. Things have been estimated to fit some phony financial plans, to meet some acrobatic funding requirements. Truth of the matter is that, as the film gets greenlighted, things have to be done all over again and, more often than should be, the real schedule and the real budget then appear as the "naked truth." Of course, we don't want to say here that Directors and Heads of Department always behave very well and never have any unrealistic demands, but the fact that they may should be no reason for bad planning.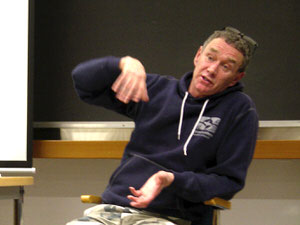 The Seniors teaching within Production Value are all "warriors of the filmmaking process." They have been through all sorts of situations, they have dealt with all sorts of people. Despite that, British Senior Assistant Director Stuart Renfrew (who has been with Production Value 9 years in a row) still believes that he's "the assistant director of the film and not the personal assistant of the director," deploring that within the European shooting tradition (outside the UK), the figure and role of the AD is often unclear.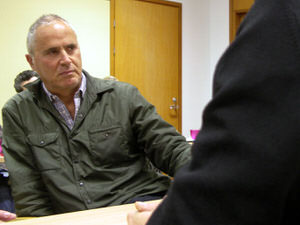 "When you work on a regular basis with a director, there's a bit of that that happens though," corrected Italian Senior Assistant Director Alberto Mangiante, who has often worked with Giuseppe Tornatore. He also made the point that being the AD on an American film shot in Italy was not the same as being the AD on an Italian film. The comment was shared by all 6 Junior ADs attending the workshop: there certainly is a national understanding of the AD that makes international coproductions hard to set up when it comes to that department.
This has been a long-time struggle by José Luis Escolar, Spanish Senior Line Producer with an impressive credits list (mostly with American productions shot in Spain or in Latin America). "What we do here is so important: we transfer knowhow, we make sure new standards are set and we share our common burden," said the Spaniard, laughing. "I have not been able to come here in the last years but I was wondering – why did I miss it so much?" he added during the last evening at the presentation of the results—the final gathering at which every team presents its work to the others and comments on its journey.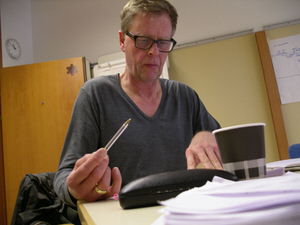 "Since edition number 1 back in 2007 where I was, so much has been achieved by Production Value," mentioned his colleague, German Senior Line Producer Mathias Schwerbrock. He was referring to the talent that the workshop discovered and nurtured, the unique network of skilled professionals it created and the common spirit it developed. "Yet, so much needs to be done in Germany," he added, where the figure of the AD is still old-fashioned relative to the production output.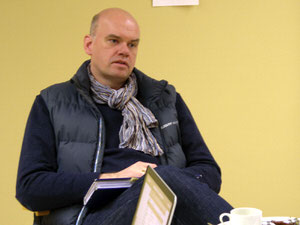 A point with which his German colleague Senior Line Producer Udo Happel could not agree more. Working as well as completion bond monitor, he offered a unique chance to introduce a view on this complex insurance system by sharing some tricks of the trade and giving some examples full of insights. "I heard a lot about Production Value over the years and I must say that my first participation has exceeded what I expected: this is quite remarkable what you are doing here," he insisted.
Now, let's look at the daring Juniors who embarked on the journey. Twelve chosen out of over 50 who applied from over 20 European countries. Statistics of the workshop are remarkably steady, as if the flow of young ADs and LPs ready to embrace the challenge would not dry out. Steady as well is the number of projects considered by the Head of Studies to be the "raw meat" for the scheduling and budgeting process: between 15 and 20, mostly reaching him through the website or by personal recommendation from a past Junior or Senior. So let's see what this year's harvest meant for the selected Juniors…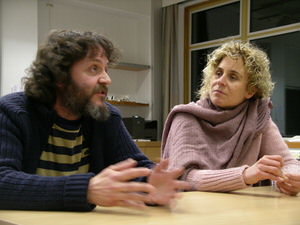 A good example of how the workshop is helpful is BERLIN BALAGAN: at first glance, this epic WWII drama is nothing extraordinary yet, as Seniors and Juniors stated, "It all depends on how they—namely producers Jamila Wenske & Sol Bondy (on the left) (Germany)—want to have it made." Once this clarified, including some cuts in the script, it took a lot of efforts by Junior Line Producer Michela Pini (Switzerland) and Junior Assistant Director Luis Moreno Bernardo (Spain) to come up with a fine balance between costs and visuals.
Another period piece was KAFKA, a script with an unusual development history: it was written back in 1981 by John Briley, Richard Attenborough's GANDHI screenwriter. It next landed in the hands of producer Ulrik Bolt Jorgensen (Denmark) (photo on the right), and was handled in the workshop by Junior Assistant Director Frieder Wallis (Netherlands) and Junior Line Producer Claude Witz (Switzerland). As the script spans many locations but contains numerous expressionist scenes revealing Franz Kafka's inner world, scheduling and budgeting required a lot of assumptions to pull through, since no talent had yet been attached to it.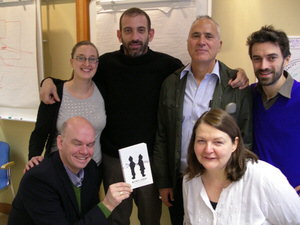 Stories with children are always most welcome at Production Value. Children in the snow are even better… And when they are twins, it's a dream come true for the workshop! This year, two teams were challenged in this field. The first team consisted of Junior Assistant Director Yan-Eryl Mer (France) and Junior Line Producer Ivan d'Ambrosio (Italy): they tackled THE FAHRENHEIT TWINS, about twins travelling far North on a dog sledge. After trying to set it up in a naturalistic environment, producers Nicola Clayton & Sara Janasz (UK) were convinced by the approach proposed by the team, which fitted all requirements including budget and safety: to shoot it in a backlot on a special railway to capture the sledge in action (with green screen), combined with additional photography filmed on real locations.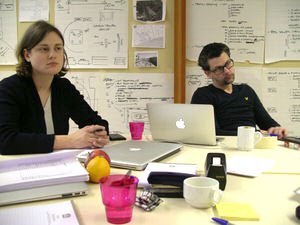 Well, there was no easy solution for THE CHILDREN OF THE ICE as its children – the heroes of a post-apocalyptic drama in a frozen world with no more sun – are made to go through numerous episodes, each one of which involving complex visual effects, mechanical effects and stunts. The efforts that Junior Assistant Director Daniel Chilla (Sweden) made to break each and every single scene into a tentative shot list to get a realistic schedule will remain in the Production Value's diaries. Juggling with so many parameters also made the experience unforgettable for Junior Line Producer Monika Sakalauskaite (Lithuania).


But there was more… There is always more at Production Value… Writers-Producers Mark Anthony Galluzzo & Steve Chatterton (UK) knew this even before coming, since the first of the two had already been at the workshop the year before with another challenging project. Their newest baby, HELEN BALLARD AND THE FALL CREEK TEN, is a mixture of a Western and a monster movie, starting with the first genre and ending with the second. This totally unusual project was assigned to Junior Assistant Director René Bosman (Germany) and Junior Line Producer Magnus Ramsdalen (Norway) and again here, it was only through a patient breakdown and a tentative shot list with the monster in them that they were able to go through this exhausting and highly detailed process. By the way, none of the those VFX options could have been elaborated without the constant support of VFX Consultant Frank Schlegel (Germany), another regular pillar of Production Value, who handled the 6 projects at the same time.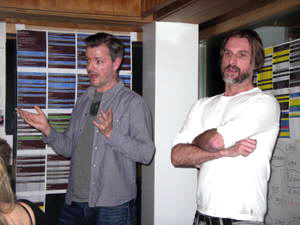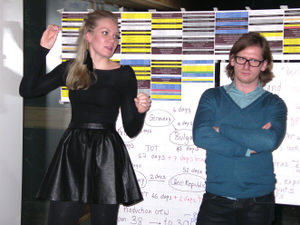 The last could not be the least. The magnitude of AIRLOCK was unique. Here's a thriller almost entirely set under water, involving divers locked in a submarine base under great danger. Without drawing every situation and spending hours of discussion over different options to shoot them, Junior Assistant Director Iiris Juutilainen (Finland) and Junior Line Producer Wim Goosens (Belgium) (photo on the right) would have never surfaced! Nobody in the room had the expertise to handle this, but everyone gave it their best! In the end, a feasible solution was found, along with agreement over some script rewriting. "Without you guys, we still would be diving into it," commented the writer-producers John Keville and Conor Barry (Ireland) (photo on the left).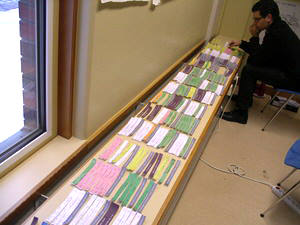 Packed with master classes on some of the best films of the year to which our Seniors had contributed (PRIDE, THE GRAND HOTEL BUDAPEST, THE VOICES, THE LIBERTADOR), Production Value 2015 was an excellent cuvée of "warriors of the filmmaking process." Though 4 projects ended up more expensive than expected, all the producers were impressed by the level of commitment and expertise of the Juniors. The latter seemed to have enjoyed every bit of it: "I have never been so happy to pay for working so hard," concluded Ivan D'Ambrosio on the last evening.
2016 will be the 10th-year anniversary, the age of maturity for what remains the only European training initiative addressing the scheduling and budgeting segment for the production of feature films.
Projects
KAFKA / Germany / Czech Republic
Junior Line Producer
Claude Witz – Switzerland
Junior Assistant Director
Frieder Wallis – Netherlands
Senior Line Producer
Jose-Luis Escolar – Spain
Senior Assistant Director
Alberto Mangiante – Italy
Guest participant
Ulrik Bolt Jorgensen – Denmark (producer)
BERLIN BALAGAN / Germany / Bulgaria
Junior Line Producer
Michela Pini – Switzerland
Junior Assistant Director
Luis Moreno Bernardo – Spain
Senior Line Producer
Jose Luis Escolar – Spain
Senior Assistant Director
Stuart Renfrew – UK
Guest Participants
Jamila Wenske – Germany (producer)
Sol Bondy – Germany (producer)
THE FARHENHEIT TWINS / UK / Czech Republic
Junior Line Producer
Ivan D'Ambrosio – Italy
Junior Assistant Director
Yan-Eryl Mer – France
Senior Line Producer
Udo Happel – Germany
Senior Assistant Director
Alberto Mangiante – Italy
Guest Participants
Nicola Clayton – UK (producer)
Sara Janasz – UK (producer)
HELEN BALLARD AND THE FALL CREEK TEN / UK / Canada
Junior Line Producer
Magnus Ramsdalen – Norway
Junior Assistant Director
René Bosman – Germany
Senior Line Producer
Udo Happel – Germany
Senior Assistant Director
Alberto Mangiante – Italy
VFX Supervisor
Frank Schlegel – Germany
Guest Participants
Mark Anthony Galluzzo – UK (writer & producer)
Steve Chatterton – UK (writer & producer)
AIRLOCK / UK / Ireland / Belgium
Junior Line Producer
Wim Goosens – Belgium
Junior Assistant Director
Iiris Juutilainen – Finland
Senior Line Producer
Mathias Schwerbrock – Germany
Senior Assistant Director
Stuart Renfrew – UK
VFX Supervisor
Frank Schlegel – Germany
Guest Participants
John Keville – Ireland (producer)
Conor Barry – Ireland (producer)
THE CHILDREN OF THE ICE / Italy / Germany / Ireland
Junior Line Producer
Monica Sakalauskaite – Lithuania
Junior Assistant Director
Daniel Chilla – Sweden
Senior Line Producer
Mathias Schwerbrock – Germany
Senior Assistant Director
Stuart Renfrew – UK
VFX Supervisor
Frank Schlegel – Germany
Guest Participants
Tommaso Arrighi – Italy (producer)
Production Value 2015 was proposed by
FOCAL
Norvegian Film Development
Austrian Film Institute
Swedish Film Institute
with the support of
The MEDIA Programme