Production Value 2008 Making-Of
Production Value 2008 — INSIDER TIPS
"In filmmaking YES and NO are answers, MAYBE is a problem".
"Americans love to fire 1st ADs, it makes them feel in control."
"In scheduling, always go by levels. Don't try to solve everything at the same time."
"Always offer choices to your director."
"The 1st AD is not a schoolmaster!"
"No matter if high or low budget, the job has to be done and the principles are the same."
"There's only one way to check the feasibility of your film: enter data line by line, cost by cost. It's better to calculate than estimate".
"I'm against shooting on a 6-day week basis. The crew must not only get some rest, but regain power".
Developing an ethical approach in support of the creative vision
The second edition of the Production Value workshop took place in Potsdam (Germany) from 12 to 19 January 2008. Six Junior Line Producers, 6 Junior Assistant Directors, 8 Directors and Producers, and 6 Seniors as Tutors, coming from 12 European countries, gathered together in this live-in workshop focusing on the craft and ethics of budgeting and scheduling feature films. The seminar—co-produced by FOCAL (Switzerland), Erich Pommer Institut (Germany), and Norwegian Film Development (Norway)—was supported by MEDIA TRAINING, a programme of the European Union.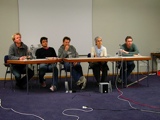 To learn through simulation, away from the pressure of everyday production. To be guided by respected Senior colleagues. To strengthen one's position in the filmmaking process. To serve the interests of Producers and Directors by improving one's skills. To share one's knowledge, experience and concerns with colleagues and peers. To find out how things are done and understood in other countries and film cultures. These were the objectives of the first edition of Production Value, and they remained so more than ever for the 2008 edition.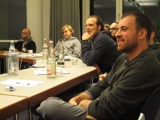 The first edition proved the workshop's pertinence. The second consolidated its vision and confirmed its necessity for the European film industry. Based on the assumption that Line Producers and Assistant Directors can contribute significantly to the quality of European films by showing Producers and Directors how to allot their budget most effectively, Production Value is a unique and innovative initiative. As such, it challenges the notion of auteur filmmaking—which would have the writer-director making the film somehow "on his or her own"—as well as the idea that for "creative producers", the actual shooting can only be a "battlefield" whose main stake is keeping to the budget.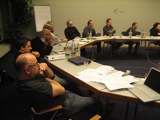 The entire Production Value event systematically takes the opposite tack, maintaining that Line Producers and Assistant Directors are responsible for carrying out in a project not only the bare realities of the technical options, the logistical aspects and the human factors, but also the creative vision of its Producer(s) and Director. It is in this spirit that Assistant Directors and Unit Production Managers (UPM) are full members of the Directors' Guild of America (DGA). The 2008 edition just happened to focus on the professional, and sometimes emotional pressure that such positions can induce.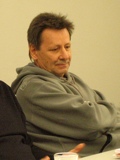 For the Junior Line Producers, this seminar was about how to best budget their projects without losing track of the underlying vision and ethics. "The biggest mistake you can make is accepting an underestimated project. And there are many of those around…" German Line Producer Michael Schwarz (OLIVER TWIST, FARAWAY, SO CLOSE!) asserted in his opening lecture. He listed the qualities required of a Line Producer: you need to be organized, effective and fair; you must be able to negotiate, to communicate, to compromise, to mediate; you must have sense of human psychology and a good intuition. "You must be able to carry out your vision and the vision of your creative team daily, and under all circumstances".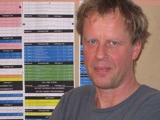 For German Line Producer Mathias Schwerbrock (DIE NACHT SINGT IHRE LIEDER, JOHN RABE), double-checking the vision of the director and main Heads of Departments before accepting an assignment is crucial. "Filmmaking is a team effort, and trouble starts when a single team player stops playing the game…"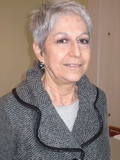 Even after more than 45 years of experience in the film industry, Italian Line Producer Laura Fattori (GANGS OF NEW YORK, THE LEGEND OF 1900) still feels that enthusiasm for the project is a key element for doing this job, although she admits that "carrying on with some previous decisions you yourself didn't make can lead to very strenuous situations". But if film projects often find themselves in absurd situations with respect to where and how they have to be shot, all too often it is because Line Producers and Assistant Directors were brought on board too late…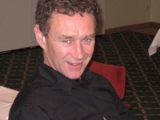 For the Assistant Directors, the workshop provided an opportunity as much to improve their skills in scheduling a script as to assess the potential and limits of their position in the shooting process. One could sense great hunger in the Juniors Assistant Directors to understand what approach to take in their sensitive position, torn as they often are between the needs of the direction and the requests of the production. For leading British 1st AD Stuart Renfrew (THE QUEEN, BRIDGET JONES DIARY), "Assistant-directors are in the diplomacy and motivation business—they are the central focus of all pressure, with everyone expecting them to give the priority to solving their own problems". His advice is "to anticipate major trouble but respect talent". To many Juniors, this was a great source of inspiration, no matter how difficult it might prove to implement it in their daily practice.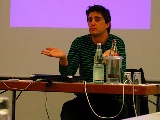 Becoming a 1st AD was certainly no simple matter for Spanish Assistant Director David Martínez Alvarez (BAD EDUCATION, THE DANCER UPSTAIRS). In a very emotional encounter with the whole group, he recalled his own somewhat painful yet rewarding road to attaining the status of one of his native country's leading 1st ADs, making no secret of the mistakes and doubts he faced in the process. He insisted on the importance of building a reliable assistant-directing department, of monitoring the 2nd AD and 3rd AD's tasks with precision and, above all, of … keeping calm. "Why is it that 1st ADs have to shout all the time? Can't they find another way to keep in control of the set?"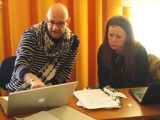 It would not be wrong to say that if the 2008 Production Value workshop created strong bridges between members of the entire group, it was mainly because our Seniors accepted to go beyond what is usually expected from them in professional training—namely, the transmission of skills and knowledge. They were willing to show who they were, how and why they do what they do, with honesty and generosity. In so doing, they broke the ice of the film hierarchy, blazing the trail for representatives of a new generation from all over Europe. Certainly they did a great deal of teaching but, more importantly, they helped establish new ethical standards."We can sense that you've taken the whole concept to a deeper level", noted VFX Advisor Nicolas Imhof, a Swiss VFX Supervisor with Hollywood experience, who was in charge — like in 2007 — of solving the special effects issues involved in half of the projects.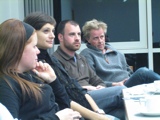 However, Production Value represents more than a forum for discussing the attitude expected of Line Producers and Assistant Directors and for improving their craft. It is a venue to which European Producers and Directors can bring their feature film projects in development in order to have them budgeted and scheduled by experienced participants (every selected Junior has been 1st AD or Line Producer/Production Manager one to five times, mostly at national level) and state of-the-art Tutors. And all this expertise is theirs for free.
The 12 participants were divided into 6 teams—with one Junior 1st AD and one Junior Line Producer to a team—and each team was assigned a separate film whose cultural background was different from their own (for instance, a Swiss film given to a Czech 1st AD and a British Line Producer). The seminar thus works like a small factory of budgets and schedules. Each team is equipped with EP Budgeting and EP Scheduling softwares. Seniors move around from one room to the next, coaching the projects and the participants on an individual basis. Once a day, the entire group meets for a plenum session, where a case study is presented or a Senior speaks about his career.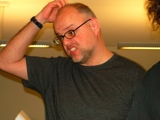 "My main job is to hire the tutors, scout for the projects and select the participants. But the greatest challenge is to match people and projects, making sure that everybody is assigned something more difficult than his or her previous experience. I make a point of challenging the Seniors as well", indicates Head of Studies Denis Rabaglia, a 4-credit film director himself, who created the concept and "runs the show". For him, there is nothing more rewarding than watching four brains (2 Seniors', 2 Juniors') locked in a room and asking themselves "How are we going to do this movie on this budget?"
So what were those projects, and who were the Producers and Directors who submitted their scripts to serve as raw material for the Juniors and Seniors? Unlike the first edition, where Producer/Director involvement was more distanced, this edition managed to invite a representative of each of the six projects to the workshop—on six occasions for the Producer, and two for the Director.
Juniors and Seniors were given a clear objective: half-way through the workshop, they were to present the project representatives with the main parameters of a schedule and a budget and, by the end of the workshop, to have achieved effective results in compliance with at least 20% of the budgets stipulated by the Producers. Out of the 6 teams, 4 were able to complete this assignment. The last 2 teams had to juggle with parameters somehow so contradictory or incomplete that they were led to believe that the projects were actually unfeasible under the conditions stipulated by their Producers and Directors. "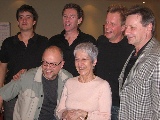 This is an amazing success for a one-week event, considering that everybody had to work on a project from a different culture than their own. Besides, not solving all aspects of a project is not a failure, since Production Value is mainly process-oriented. It can even be seen as a positive result because their Producers and Directors know now that something is wrong with these projects", comments Head of Studies Denis Rabaglia.
Without breaching the confidentiality of the projects, let us take a tour of the teams involved in the Production Value workshop process and get their feedback.
Producer Madgalena Napieracz (Poland) was very pleased to see that Junior Line Producer Terez Hollo
(Norway) — at right — managed to be only 200,000 Euros above the figure she expected for "YUMA", a drama to be directed by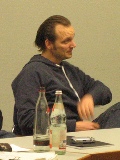 Polish director Piotr Mularuk and set on the border between Poland and Germany. As for Junior 1st AD Ari Hemelaar (Netherlands), he was very proud to finally take charge of a complete schedule—something unallowed by the Dutch film community (usually, Dutch ADs are hired only 2 to 3 weeks before shooting). Terez praised the workshop's lack of stress, which made it possible to take full advantage of the highly experienced tutors. Ari, thrilled to have been part of it, appreciated the honesty of the approach above all.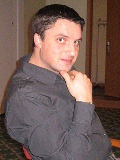 Another lucky Producer was Edward Pearce (UK) — at right —, who had his project HARRY'S MONA LISA—a funny and romantic action-comedy set in the art world—carefully examined by Line Producer Arturas Dvinelis (Lithuania) — at left — and Junior 1st AD Simon Gruszecki (Poland) — bottom, at left —. The resulting budget was higher than expected, but nonetheless the team earned thanks from the Producer, who admitted having underestimated the cost of making some of the action scenes.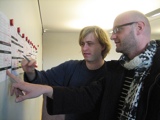 What Arturas enjoyed in Production Value was the freedom to be creative under a certain degree of pressure. Simon saw the workshop as a growing experience, and was amazed to be able to share some of his concerns with colleagues from so many countries.



Oscar-winning Producer Peter-Christian Fueter (Switzerland) is a daring person. His project "SENNENTUNTSCHI", a horror film based on a legendary Swiss character, was put into the hands of Junior Line Producer Hayley Manning (UK) — bottom, at right — and Junior 1st AD Lukas Viznar (Czech Republic) — bottom, at left —.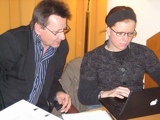 The results of their work confirmed the producer's own intuitions regarding the difficulties of shooting this complex film in a high mountain setting, with a lot of on-set special effects.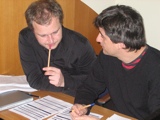 Hayley felt privileged to get training in a real rather than theoretical environment. Lukas was most grateful for the opportunity to mix Eastern and Western participants and share their experience, since so much remains to be done in the field among the new European countries.
British writer and co-producer Dominic Morgan (UK) enjoyed the chance to at last deal with the pragmatic aspects of script development. "It's so much fun to be with the men on the battlefield. One gets fed up with development meetings where nothing concrete gets accomplished. This is real and refreshing!" His project "PLAYING FOR THE ENEMY" was quite a challenge for Junior Line Producer Darko Lovrinik (Germany)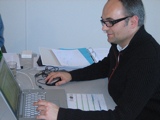 and Junior 1st AD Rainer Hampel
(Austria), with a film sset between the Falklands and Argentina and yet a shoot that was meant to be as brief as possible in both places… In the end, Darko found this to have been his most important professional experience in years, broadening so many of his horizons. As for Rainer—"the Junior older than the Seniors" as he liked to term himself—it felt good to be reminded, even after 20 years of experience, that the human factor remains central in filmmaking.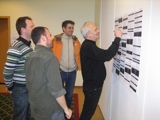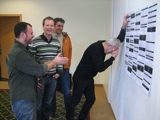 Filmmaker Didier Flamand (France) and his Production Manager Olivier Guerbois (France) had been working hard to give shape to the making of "MOTHER AND CHILD", an elegant thriller and road movie. Only with the support of Junior 1st AD Andrea Pagani (Italy) — at left —, together with his colleague, Junior Line Producer Joram Willing (Netherlands) — at right —,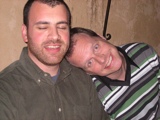 were they able to come up with a decent and feasible schedule respecting both the Director's main requirements and the legal restrictions on shooting with a 5-year old child. The workshop granted Andrea a deeper understanding of teamwork that will affect his practice. As for Joram, he left Potsdam more aware than ever of the art of diplomacy involved in dealing with any Director.

"Production Value came at the right moment in the development of our project "SWAMP". It enables us to re-orientate many options for improving the film, on both creative and financial levels", asserted Producer Henryk J. Henriksen and his sister, writer-director Camille Stroem Henriksen (Norway). All this thanks to the thorough and systematic work accomplished by Junior Line Producer Katrin Renz (Switzerland) and Junior 1st AD Karl Liegis (UK).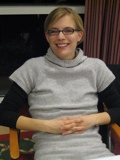 Katrin, like many others, was pleased to master the use of the software programmes and share the energy of the group. As for Karl, the inscription he put in a book offered to his colleague Simon Gruszbecki says it all: "We have experienced something very special while here, something that will strengthen our characters, and if we treat the knowledge and wisdom we have been taught with the respect it deserves, we will maintain dignity and we will succeed."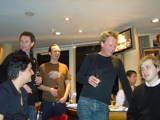 That might be our closing word on the second edition of Production Value, had we not chosen instead to give it to David Martínez Alvarez: "Production Value is an incredible initiative, an invaluable way to plant the seed of encouragement for serious, creative and honest work." May the forthcoming editions show how very right you were, hombre!
Projects
| Project YUMA | POLAND / GERMANY |
| --- | --- |
| Junior Line Producer | Terez Hollo — Norway |
| Junior 1st AD | Ari Hemelaar — Netherlands |
| Senior Line Producer | Laura Fattori — Italy |
| Senior 1st AD | Stuart Renfrew — UK |
| Producer | Magda Napieracz — Poland |
| Director | Piotr Mularuk — Poland |
| Project HARRY'S MONA LISA | UK |
| --- | --- |
| Junior Line Producer | Arturas Dvinelis — Lithuania |
| Junior 1st AD | Simon Gruszecki — Poland |
| Senior Line Producer | Mathias Schwerbrock — Germany |
| Senior 1st AD | David A. Martinez — Spain |
| Producer | Edward Pearce — UK |
| Director | Not attached |
| Project SENNENTUNTSCHI | SWITZERLAND / GERMANY |
| --- | --- |
| Junior Line Producer | Hayley Manning — UK |
| Junior 1st AD | Lukas Viznar — Czech Republic |
| Senior Line Producer | Michael Schwarz — Germany |
| Senior 1st AD | David A. Martinez — Spain |
| Producer | Peter-Christian Fueter — Switzerland |
| Director | Michael Steiner — Switzerland |
| Project PLAYING FOR THE ENEMY | UK / SPAIN |
| --- | --- |
| Junior Line Producer | Darko Lovrinic — Germany |
| Junior 1st AD | Rainer Hampel — Austria |
| Senior Line Producer | Laura Fattori — Italy |
| Senior 1st AD | Stuart Renfrew — UK |
| Co-producer / Co-writer | Dominic Morgan — UK |
| Director | Not attached |
| Project MOTHER AND CHILD | FRANCE |
| --- | --- |
| Junior Line Producer | Joram Willink — Netherlands |
| Junior 1st AD | Andrea Pagani — Italy |
| Senior Line Producer | Michael Schwarz — Germany |
| Senior 1st AD | Stuart Renfrew — UK |
| Director | Didier Flamand — France |
| Production Manager | Olivier Guerbois — France |
| Project SWAMP | NORWAY |
| --- | --- |
| Junior Line Producer | Katrin Renz — Switzerland |
| Junior 1st AD | Karl Liegis — UK |
| Senior Line Producer | Mathias Schwerbrock — Germany |
| Senior 1st AD | David A. Martinez — Spain |
| Producer | Henrik J. Henriksen — Norway |
| Writer-Director | Camilla Stroem Henriksen — Norway |
Press Releases 2008
Production Value 2008 was proposed by
FOCAL
Erich Pommer Institut
Norvegian Film Development
with the support of
The MEDIA Programme
Medienboard Berlin-Brandenburg