Are you a junior line producer?
INT
Day
You compiled some credits as production manager or line producer and yet, you are longing to know more. Probably, you have found yourself in a lot of complex situations, dealing with people and money You came to the conclusion that « it cannot be the right way to do this ». You know enough to make your living but you want to make a step further in scheduling and managing resources. Then you are what we call a junior line producer, ready to meet a respected senior who will show new ways to approach and understand the craft.
INT
Evening
In the European film industry, production managers have always had a longstanding influence on the quality of films, since it is they who manage the financial means provided by the producers. Since there is no standard way to produce films in Europe, nor any standard costs, the Production Manager's ability to handle a tight (more often than not!) budget and to nevertheless meet the creative requirements often makes a big difference for the director and all his Heads of Departments.
EXT
Evening
In recent years, the position of line producer has grown in importance, due not only to increasing budgets and complex post-production schedules but mainly to the fact that the actual management of financial resources has become a separate job from raising them.
EXT
Evening
If most line producers have been production managers for years, not all production managers will succeed in performing as line producers, due to the special skills necessarily associated with this demanding position.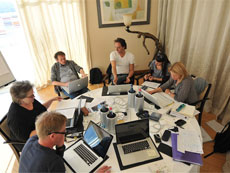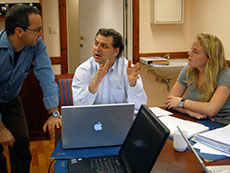 EXT
Day
Production Value aims at helping experienced production managers to make the step towards line producing, so that they develop a creative approach to the challenge of spending the budget allocated to them to the film's full advantage.
INT
Day
If you are a production manager or a young line producer and you have chosen this path for your career, then Production Value is the place for you to make a significant step forward in the understanding of your position. You will be tutored by respected senior line producers and will meet fellow colleagues from all over Europe.
INT
Day
As junior line producer, you will be assigned a real film project to budget according to certain parameters. You will team up with a junior assistant director in charge of scheduling the film. At each step of the process, you will be tutored by your senior line producer.
EXT
Evening
You are expected to draw up a first draft of the budget after New Year's Eve, based on the first schedule by the junior 1st AD assigned to the same project. You must allow at least 3-5 days to work on the project before actually starting the workshop. You will be equipped with the latest version of MM Budgeting 7 software.
The main benefits of your participation in Production Value are:
Positioning yourself in the creative process
Methodology leading to comprehensive budgeting
Improvement of skills related to budgeting
Enhanced interaction ability at co-production level
Awareness of human resources management
Networking with European fellow colleagues
Mastery of international software programs
Understanding the impact of regional and tax funds on designing budgets
The typical profiles of the junior line producers we are looking for are:
Professional Production Managers who have held this position on feature films or TV movies at least twice, mostly on national productions.
Professional Young line producers who have held this position at least once.
EXT
Day
Why can't you apply as junior line producer with a project to which you are attached?
The answer is simple : in Production Value, we believe that training for budgeting is best if you work on a film with which you are not involved. Besides, working on a film project on another scale and from another film industry will broaden your understanding and experience.
INT
Evening
At Production Value, we aim to challenge the tasks and duties of the line producers, so that they can significantly improve the quality of European films.
Applications are now closed