Are you a junior assistant director?
INT
Night
You compiled some credits as 1st AD or 2nd AD and yet, you are longing to know more. Probably, you have found yourself in a lot of complex situations, dealing with people and resources. You came to the conclusion that « it cannot be the right way to do this ». You know enough to make your living but you want to make a step further in scheduling and running the set. Then you are what we call a junior assistant director, ready to meet a respected senior who will show new ways to approach and understand the craft.
INT
Evening
At Production Value, we believe that assistant directors are key players in the creative process of a film shoot. Their sound understanding of the parameters leading to effective filmmaking can lend support to every director, production manager/line producer and head of department. Excellent assistant directors not only save time and energy but also help maximize the creative vision by implementing its ramifications throughout the whole shoot and within all departments.
INT
Night
There is no formal training to become an assistant director in Europe. The only way is learning by doing: starting as a trainee or runner, moving to be a 3rd AD, then a 2nd AD and finally, qualifying as 1st AD. With growing responsibility, the pressure increases. The closer you get to the creative people (directors, producers, actors, DOPs, designers…), the more you share their vision and their concern for how to carry it out.
EXT
Night
A major part of the 1st AD's task is scheduling the scenes, an art in itself. Gaining experience on this topic is very difficult, and yet the impact of appropriate scheduling can be invaluable (as much as the impact of bad scheduling can be disastrous). Human ressources management is also an important part of the job.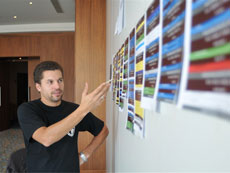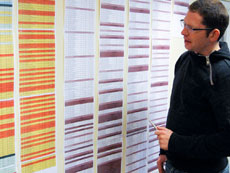 INT
Morning
If you have some experience as 2nd or 1st AD and have chosen this path for your career, then Production Value is the place for you to make a significant step forward in the understanding of your position. You will be coached by respected senior assistant directors, and you will meet fellow colleagues from all over Europe.
EXT
Morning
As junior assistant director, you will be assigned a real film project to schedule according to certain parameters. You will team up with a junior line producer in charge of budgeting the film. At each step of the process, you will be tutored by your senior assistant director.
INT
Evening
You are expected to draw up a breakdown and a first draft of the schedule over Christmas. You must allow at least 3-5 days to work on the project before actually starting the workshop. You will be equipped with the latest version of MM Scheduling 5 software.
The main benefits of your participation in Production Value are:
Positioning yourself in the creative process
Methodology leading to comprehensive budgeting
Improvement of skills related to scheduling
Enhanced interaction ability at co-production level
Awareness of human resources management
Networking with European fellow colleagues
Mastery of international software programs
Understanding the impact of regional and tax funds on designing schedules
The typical profiles of the junior assistant directors we seek are:
Professional assistant directors who have held the position of 1st AD on feature films or TV movies at least twice.
Professional assistant directors who held the position of 2nd AD at least 3 times.
INT
Night
At Production Value, we aim to nurture assistant directors so that they can significantly improve the quality of European films.
Applications are now closed