Production Value 2007 in Switzerland
Production Value 2007 — INSIDER'S TIPS
"If you want to get a completion bond, you must have 10% contingency allowance".
"As line producer, show up only once a week on the set but watch all the dailies".
"Shooting at sea means allocating 30% more time".
"The labour law that applies is the same as in contracts for crew members: an Englishman shooting in France under a British contract works under British labour law and British union regulations".
"Better to prepare a film with fewer people in a longer time than with more people in a shorter time".
"The First Assistant Director is not the the film's babysitter".
"In the American and British industries, the First AD is ultimately responsible for closing the day".
"Appropriate rewriting during preparation usually results in production value and script improvement".
"Second Unit and additional photography are interesting tools, but must be handled with care: matching directors can be a problem".
Some Light on the People in the Shadows
The first edition of the Production Value took place in Yverdon-Les-Bains (Switzerland) from January 27th to February 3rd, 2007. Eight participants and five tutors were brought together in this resident workshop focused on the art of budgeting and scheduling feature films. The event was co-produced by FOCAL (Switzerland), Erich Pommer Institute (Germany), Norwegian Film Development (Norway) and the National Film and Television School (England), and supported by MEDIA TRAINING.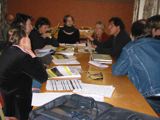 The idea was fairly simple. To bring together Junior Line Producers and Junior Assistant Directors from all over Europe, to assign them real feature film projects in development and financing, to ask them to budget and schedule those projects under the guidance of Senior Colleagues and, finally, to confront them with the actual Producers and Directors of the projects.
To learn by simulating, away from the pressure of everyday production. To be guided by respected Senior colleagues. To strengthen one's position in the filmmaking process. To better serve the interests of Producers and Directors by improving one's skills. To share one's knowledge, experience and concerns with colleagues and pairs. To find out how things are done and understood in other countries and film cultures. These were the objectives of Production Value.
Budgeting and scheduling are crucial steps in the filmmaking process — crucial but often underestimated. In European cinema, the production process is separated into two different steps: the development and financing phase — a moment full of hopes, ups and downs — and the actual production phase — a moment of high pragmatism, when films are often made thanks to the money "on the table". What happens then is that bringing together money and product becomes the job of a few: the Director, the Line Producer and the Assistant Director. Their decisions as to how and where to spend the money will make a strong impact on the product. That's why excellent line producers and excellent assistant-directors are very much sought after by production companies and directors, who appreciate their importance in the creative process.
The workshop was therefore built up on the assumption that the various traditions of filmmaking in Europe represent strong and inventive know-how when it comes to planning, scheduling and budgeting a film. In other words, in terms of contributing actively to its production value. The eight participants and five tutors, all active professionals in their respective countries (the individual participants and tutors each came from a different country), certainly lived up to this assumption…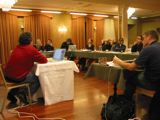 The participants were teamed up into four groups, with a different film project assigned to each. In seven days of intensive work, they did numerous drafts of schedules and budgets, exchanging ideas on what approach to take to the scripts. They often had to make creative decisions that would be the prerogative of directors in real-life situations. They had to decide which options to take with respect to, for instance, formats, locations or special effects. For once, they could come up with filmmaking strategies in their entirety, even if basic information communicated by the original Producers (like the projected budget, coproduction requirements and labor laws) was taken into account. They felt in charge of delivering the most accurate schedules and budgets possible, to the best of their understanding and experience.
Their work was made more complex by their being teamed into multi-cultural groups (with English as the working language), where participants and tutors alike were kept from being assigned a project of their own film culture. "The stake here is to force everyone at the table to transpose themselves into a different film environment from the one they are used to working in. All the participants have experience on a national level, but they came to realize that handling an international production is another game", comments Head of Studies Denis Rabaglia, a 4 credit film director himself, who created the concept and ran the workshop. However, the process was made easier thanks to research carried out by filmmaker Pascal Verdosci on working conditions in the nine countries where the films were due to be shot.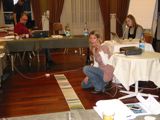 For reasons of confidentiality, it is not possible here to enter into the particulars of the schedules and budgets of each project, nor to report the various versions of each. After all, the Producers and Directors kindly accepted to have their "babies-in-progress" put into the hands of total strangers ! And for that, Production Value is deeply indebted to them. A debt that we try to repay by providing them at the end with the final results of the workshops: professional breakdowns and shooting schedules, along with detailed budgets, worked out several times over by the participants and tutors.
These end documents came as no complete surprise to the Producers and Directors. In fact, halfway through the workshop, they had all been invited to attend the event for 24 hours, and to provide immediate feedback on each group's work-in-progress. They attended two of the workshop groups themselves; the attached line producers supervised the process in the two others. Needless to say, this intensive cooperation provided great input for the workshop and enabled new options to be considered to the benefit of the films. As a training initiative, Production Value aims at remaining rooted into the European film community.
As difficult as it is to draw general conclusions on the basis of four different processes, some overall findings nonetheless stand out:
Budget frameworks originally given by the Producers were all below our calculations (between 10% and 50% !). These discrepancies are mainly due to the implications of shooting abroad, in foreign film environments, and sometimes in film industries applying higher standards.
The number of shooting days pretty much matched the Producers' estimates. In one case, we came to the conclusion that the film could be shot in fewer shooting days than foreseen by the Producer.
Appropriate budgeting and scheduling often come too late in the process, with the bare production realities being discovered too close to principal photography. This results in tension among all the creative partners. Hopefully, awareness of the need for early pre-preparation is growing within the European film community.
Line Producers and Assistant Directors often feel that films are put into production before their scripts have been fully developed, thus making it more difficult to set up the stakes for the actual making of the film.
The duties of Line Producers and Assistant Directors are not always understood in exactly the same way, depending on the film culture. Little or no heed is paid to their suggestions about contentin the more industrialized film cultures; in the others, which are smaller, their creative input tends to be valued.
The issue of Visual Special Effects is becoming increasingly important, forcing Line Producers and Assistant Directors to acquire specific understanding. Within the workshop, additional expertise was provided by Nicolas Imhof, a Swiss SFX supervisor with Hollywood experience, who suggested and then budgeted creative solutions for the four projects.
Some of these issues, along with many others, were addressed during plenums featuring lectures and case studies. Each tutor had opportunity to present a film he had worked on and to present his own understanding of his position. Let us meet them personally…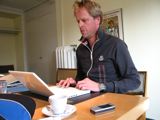 For Berlin-based Line Producer Matthias Schwerbrock ("Die Nacht singt ihre Lieder", "Wolfsburg" and many other German-language films), it is his job to find the best way to make the film not go against the director's vision. He stressed that if, in the end, the film goes over its budget, it will be always be the line producer's "fault" anyway. For this reason, being attached to the film as early on as possible is the best way to avoid discrepancies. In any case, working with a minimum of 5% contingency allowance is an absolute necessity. His motto: "Reducing the production value is never a good option".
Matthias admitted to having learned a lot about other film cultures at Production Value 2007. He suggested that the next edition present a full case study of a complex film, with the Producers and Director attending the presentation.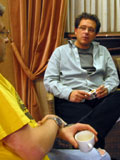 Former First AD, Madrid-based Line Producer José-Luis Escolar has vast experience in Spanish-language films (Goya Award 1998 of Best Line Producer for "Perdita Durango" by Alex de la Iglesia) and international production shootings in Spain and Argentina ("Kingdom of Heaven", "Imagine Argentina"). In a couple of films, he worked as both First Assistant Director AND Line Producer, and felt that the duality gave him a better control of the costs and results. His motto: "We Line Producers and Assistant Directors are not only executants, we are creative people".
José-Luis is a strong supporter of Production Value — in his eyes a unique and important occasion to improve one's skills and enlarge one's network. For the next edition, he would like the basic options of each project to be discussed beforehand, in order to optimize the work during the workshop.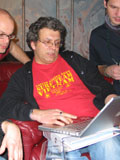 Paris-based First AD Pascal Salafa ("Joyeux Noël", "The Da Vinci Code") is the president of AFAR, the French association of assistant-directors (www.afar-cinema.com). He sees himself more as Assistant Director of a film than Assistant to the Director, although his job is to help bring the Director's vision to the screen. He usually refrains from interfering with creative issues unless asked to do so. He warns that the First AD cannot be the link between the Director and the Producer if that link is weak. He worked a couple of times with a co-First AD — one involved with cast and director, and the other with crew and extras. Working on big budgets is an obstacle to creativity — his job becomes "to get the show on the road!". His motto: "Always ask questions, don't assume anything, and cover your a…"
Pascal praised Production Value for being a process-oriented initiative and — for once — not result-oriented.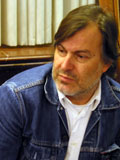 Zurich-based Marcel Just has been First AD for over twenty years now (his last major assignment was the international success "Vitus"). He likes to have a sort of overlook on the director's vision, help him shape it. He has often found himself forced to guide directors, noticing that some have problems with hierarchy. Having worked mostly on auteur films, it is his experience that some filmmakers like to be challenged, and others not at all ! His motto: "As much as I'm allowed to, I like to be involved with creative issues".
At Production Value, Marcel found the experience of collaborating on budget numbers fascinating. It is something he does not get to do in his usual position. He appreciated the sharing of experience and friendship with his colleagues, but admits missing discussions on the script flaws.
If these were the Seniors, who then were their eight Juniors ? What appealed to them in Production Value, to make them spend long evenings polishing off their schedules and budgets? Selected from among 68 applicants from 23 countries, they now constitute the first members of a growing network !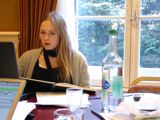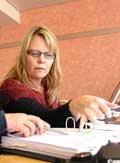 Junior Line Producer Nina B. Andersson (Norway) was thrilled to finally obtain insight at an international level. The workshop represented a unique challenge. She enjoyed the intimacy of the group, but regretted that the real producer and director of her project couldn't spend more time at the workshop. Her Scandinavian colleague Piia Nokelainen (Finland) felt she was able to build up a network on the basis of common understanding.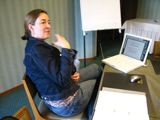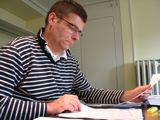 Their Line Producer colleague Gina Marsh (England), quite experienced for a Junior, saw the workshop as a confirmation of their own position in the industry through the sharing of experience. As for Charles Paviot (France), the only male Junior Line Producer, he felt invigorated by the group's energy and the quality of interaction. He suggested creating an infomal network of Production Value participants through a special website www.productionvalue.net — an initiative we are currently following through on.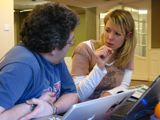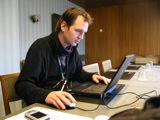 Junior First AD Annette Gosewinkel (Germany) found our tutors had very different personalities; their commitment enriched her vision of the job. Her colleague Jiri Kacirek (Czech Republic) desperately sought confrontation with his Eastern Europe colleagues. Often working on low-budget films, he asserted that attitude matters more than numbers.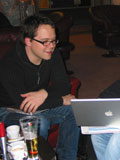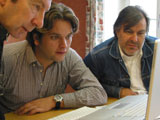 Another Junior First AD dealing with limited budgets was Florian Engelhardt (Switzerland), who found confirmation of his understanding of his position thanks to the tutors. The last word goes to Junior First AD Milo Rietvelt (Netherlands): "Time flies with high-level partners. It's been an exhausting but hugely-enjoyable week. Thank you Denis, for bringing us together!"
With this workshop, all the participants, whether Junior or Senior, confirmed the importance of shared brainstorming at the preparatory stage. Their creative impact on behalf of a feature film is undeniable. Thanks to their commitment and hard work, the "people in the shadows" have proven their value to the Producers and Directors. In all probability, none of the Juniors will ever schedule or budget in the same way as before, and all of the Seniors will have gained a wealth of experience through their participation in the lively cultural exchanges.
As modest as it was, Production Value 2007 has paved the way: since preparation is a crucial step in the filmmaking process, why not look at it from a different angle, enabling true collaboration between the creative and the pragmatic dimensions? The European film industry, generally underfinanced and somewhat chaotic, would definitely have all to gain by joining those whose craft has, for years, underpinned the art of filmmaking.
---
Projects
| Project WHITE FEVER | England / Switzerland / Canada |
| --- | --- |
| Junior Line Producer | Nina B. Andersson - Norway |
| Junior 1st AD | Milo Rietvelt - Netherlands |
| Senior Line Producer | José Luis Escolar - Spain |
| Senior 1st AD | Marcel Just - Switzerland |
| Producer | Alfi Sinniger - Switzerland |
| Director | Sabine Boss - Switzerland |
| Project THINK ABOUT DISNEY | Spain / France |
| --- | --- |
| Junior Line Producer | Gina Marsh - England |
| Junior 1st AD | Jiri Kacirek - Czech Republic |
| Senior Line Producer | Mathias Schwerbrock - Germany |
| Senior 1st AD | Pascal Salafa - France |
| Producers | Alex de la Iglesia - Spain |
| | Franck Ribière — France |
| Director | Alex de la Iglesia - Spain |
| Project SERVIAM | Germany / Austria / France |
| --- | --- |
| Junior Line Producer | Piia Nokelainen - Finland |
| Junior 1st AD | Annette Gosewinkel - Germany |
| Senior Line Producer | José Luis Escolar - Spain |
| Senior 1st AD | Marcel Just - Switzerland |
| Producers | Ruth Mader - Austria |
| | Christoph Hahnheiser - Germany |
| Director | Ruth Mader - Austria |
| Project LYN DEREK | Norway |
| --- | --- |
| Junior Line Producer | Charles Paviot - France |
| Junior 1st AD | Florian Engelhardt - Switzerland |
| Senior Line Producer | Mathias Schwerbrock - Germany |
| Senior 1st AD | Pascal Salafa - France |
| Producer | Eric Vogel - Norway |
| Director | Not attached |
Press Releases 2007
Production Value 2007 was proposed by
FOCAL
Norvegian Film Development
Erich Pommer Institut
National Film and Television School
with the support of
The MEDIA Programme
Medienboard Berlin-Brandenburg