Production Value 2009 in Norway Summary | Full report
EXT
Dawn
PRODUCTION VALUE – The third edition of the European Scheduling and Budgeting Workshop took place from January 10 to 17 in Vikersund, Norway.
INT
Night
This new edition featured 31 professionals coming from 15 European countries: 6 Junior Assistant Directors, 6 Juniors Line Producers, 6 Directors and 7 Producers under the mentorship of 6 Tutors.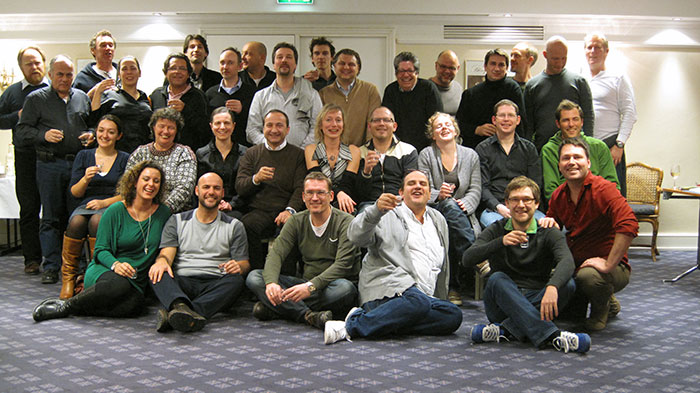 Out of the 51 applications coming from Juniors of 21 countries, 12 professionals from 11 countries have been selected:
Junior Assistant Directors
Dörte Schneider, Germany / Portugal
Juric Dragan, Croatie
Pierre Ellul, Malta
Jim Probyn, United Kingdom / Luxemburg
Ralf Siig, Estonia
Joost Van Schie, Netherlands
Junior Line Producers
Karolina Heimburg, Sweden
Lina Pedersen, Norway
Marianne Van Hardevelt, Netherlands
Florian Nussbaumer, Switzerland
Michael Kissaun, Malta / Germany
Leopold Wurm, United Kingdom
For this edition, the following Seniors led the scheduling and budgeting process of 6 film projects in development and financing:
Stuart Renfrew, Senior Assistant Director, United Kingdom – returning from 2008! (All the last Stephen Frears' films – "Bridget Jones' Diary")
Scott Kirby, Senior Assistant Director, Germany – new! ("V for Vendetta" – "The Bourne Ultimatum")
Jose Luis Escolar, Senior Line Producer, Spain – returning from 2007! ("Kingdom of Heaven" – The new Amenabar film)
Marco Valerio Pugini, Senior Line Producer, Italy – new! (The new Spike Lee film – TV series "Rome")
Kaare Storemyr, Senior Line Producer, Norway – new! ("Aberdeen" – "I am Dina")
Nicolas Imhof, VFX advisor, Switzerland – returning from 2007 and 2008 (former VFX artist in Hollywood).
6 European production companies brought their film project to the workshop. The Directors and Producers of each project joined Vikersund in the last 2 days to discuss the results of the Juniors and the Seniors:
THE DOLPHIN BOY (ML Visuals, Belgium – Producer and Director Marc Lévie & Line Producer Frédéric Chanteux)
DRAKEN (Frame Filmproduktion, Austria – Producer Sascha Mann & Co-director Dirk Meints)
GLOBAL BEACH (C-Films, Switzerland – Producer Peter Reichenbach & Director Fulvio Bernasconi)
THE HOUSE OF MY FATHERS (Volya Films, Netherlands – Director Ineke Smits & Line Producer Jet Christiaanse)
TOP OF THE WORLD (PJB Picture Company, Norway – Producer Petter J. Borgli & Director Hans Petter Moland)
UNTITLED LOVE STORY (Eidolon Entertainment, Austria – Producers Thomas Strasser & Contessina Bauer & Director Peter Koller)
EXT
Dawn
For the third time, PRODUCTION VALUE was led by Head of Studies/Film Director Denis Rabaglia.
INT
Day
Read the Full report
Production Value 2009 was proposed by
FOCAL
Erich Pommer Institut
Norvegian Film Development
Austrian Film Institute
with the support of
The MEDIA Programme
Medienboard Berlin-Brandenburg