Production Value 2010 in Austria
Plans, Guts and Gut Feelings
The fourth edition of the Production Value workshop took place in Retz (Austria) from 9 to 16 January 2010. Six Junior Line Producers, 6 Junior Assistant Directors, 12 Directors and Producers and 6 Seniors as Tutors, coming from 13 European countries, gathered together for this workshop focusing on the process of budgeting and scheduling 6 feature films in development. The workshop — co-produced by FOCAL (Switzerland), the Erich Pommer Institut (Germany), the Norwegian Film Institute (Oslo), the Swedish Film Institute (Stockholm) and the Austrian Film Institute (Vienna) — was supported by MEDIA TRAINING, a program of the European Union.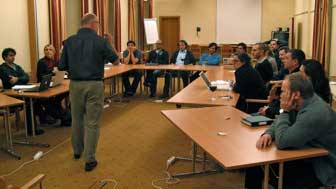 Production Value 2010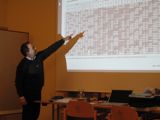 In filmmaking, the Schedule reflects the Plan. Since the Budget in turn reflects the Schedule, therefore the Budget is the reflection as well of the Plan. But where does the Plan come from? It is commonly known that film schools do not address the issues of scheduling & budgeting with utmost care. They do not stress how significant these pillars can be in any filmmaking process. Like most of the European industry, they consider them as merely operational aspects, rather than creative ones.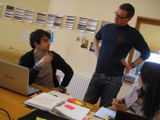 The 4th edition of Production Value was another brilliant occasion in proof of how wrong such a lazy approach can be. If this edition was about one thing, then it was about giving attention to the Plan that any Assistant Director and Line Producer must come up with when assigned a project. And that Plan starts with gut feelings.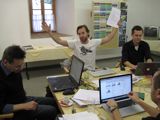 Production Value is intended as the place where, within the European training landscape, all the attention gets focused on the Plan. Although you cannot teach personal experience, we believe that what can be taught here is the right approach and attitude. Here, we can exchange the ups and downs experienced by those who make the Plans for big European and sometimes American films shot in Europe or elsewhere in the world: high-profile Line Producers and Assistant Directors, respectfully called The Seniors. Their wealth of knowledge, an accumulation of wonderful experiences and terrible situations, can be made available to those we fondly call The Juniors.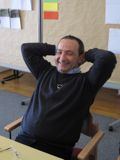 "You must have the Plan in your head all the time! Do not rely on only computers! No machine can absorb the complexity of a movie," insists Senior Line Producer Marco Valerio Pugini (MIRACLE OF ST-ANNA, LETTERS TO JULIET). In an exceptional case study on the TV series ROME Marco described in detail the incredible shooting machine he put together to be able to produce 22 episodes between 2005 and 2007. "I like to do TV Series because then, I'm the one who makes the rules: that many new sets, that many returning characters", he adds with irony, as a man who has dedicated his life to cinema. In the middle of amazing numbers in the millions of dollars range, he clearly states that the biggest mistake he made was not to listen to his gut feeling on what seemed to be a minor component of the whole, but turned out to be a key factor for re-shooting: namely, Italian extras believable as Roman soldiers.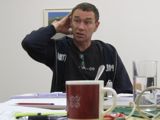 "I make everyone do their part". For Senior Assistant Director Stuart Renfrew (Stephen Frears' last 5 films, BRIDGET JONES DIARY), it is essential to encourage the other crew members to keep thinking. Achieving a creative environment where good decisions are made better once executed is crucial. "It often comes down to getting into the details, I keep asking questions all the time. Your job is to think through what you need to achieve in scenes." Though he does admit that things don't work out exactly like that with Stephen Frears: "He doesn't tell you much about how the scene will be; you must therefore go according to your own convictions and gut feeling. In reality, he allows you one question a day" he confesses laughing.
Guts are what it took for Senior Line Producer Kaare Storemyr (I AM DINA, ABERDEEN) when it came to setting up the Plan for shooting WOLF SUMMER (2003). First, it was a matter of choosing the State of Montana (USA) to stand for Norway, mainly because of the need to secure wild animals and their trainers. Then, it was about shooting with a small Norwegian crew in a country where film shooting is notoriously expensive, and labor terms rather complicated. "The Plan was awkward but I knew it could work. It was all about being persistent. In the end, it took me more effort getting my people there to work than the actual shooting of scenes involving children and wild animals in the same frame," he admits. "In this business, the difficulty rarely arises where it is expected," adds Denis Rabaglia, Head of Studies and a film director himself.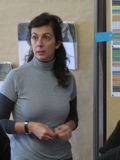 At Production Value, we praise female Seniors, since they are rare in this field. In 2008, it was a great honor to have with us Line Producer Laura Fattori, who has spent a lifetime working in this industry, rising to such positions as handling Scorsese's "KUNDUN" and "THE GANGS OF NEW YORK." In 2010, for the first time, we introduced a female Assistant Director as Senior with Daniela Forn Mayor (VICKY CHRISTINA BARCELONA, THE MECHANIST). Of Spanish nationality, Daniela energetically tackled the shoot in Lithuania of Brad Anderson's TRANSSIBERIAN (2008) "where almost every single possible Plan was set up and where almost every worst-case-scenario did happen. It was one of those situations where you would use a joker every day, and then end up praying for snow since, otherwise, there would be nothing else to shoot… But somehow, I always felt we would make it." Gut feeling again.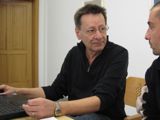 Building London from scratch over a Czech hill was Senior Line Producer Michael Schwarz's greatest challenge when he took over the assignment to complete OLIVER TWIST by Roman Polanski (2005). In such peculiar circumstances of working with a budget that is not yours, he explained how he gained the crew's respect just by taking reliable decisions. The man remains a strong advocate of best practice in line producing: "You must be ready to take risks, you must have a vision of the final product, you must accept responsibility and you need psychological intuition as much as organizational skills."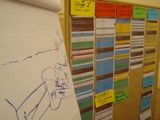 Not that Production Value pretends that its Juniors can acquire all this within a week. The most important lesson they can and will take back from the workshop, however, is the necessity of a Plan, and the importance of developing their own gut feelings. What we provide is a sophisticated mechanism enabling them to experiment the implementation of a Plan for a fairly complex movie, something way beyond what they usually encounter at home. We also try to maximize the training workflow by suggesting constant interactions between the Juniors and the Seniors and, ultimately, with the Producers and Directors of the 6 projects. The Producers and Directors, present the last 2 days of the workshop, are fully incorporated into the working process. More than once they have been amazed by the Plan presented to them by the Juniors and all the gut feelings that went into handling it…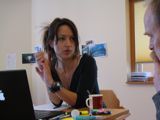 It took a certain time to get the right Plan for "THE WARNING" one of the 6 scripts brought to the workshop this year. Junior Line Producer Kirsten Sohrauer (Germany) and Junior Assistant Director Aldo Tardozzi (Croatia) had to break down the script to an unusually detailed degree to be able to work out a proper schedule and budget. They had to question many of the parameters given to them, only to better serve the project with a viable and affordable Plan. Both Producer Heinz Stussak (Austria) [bottom left] and Writer-Director Ernst Gössner [bottom right] were baffled by the results: "The schedule is more or less ready to shoot. It is useful to be over-budget now at this stage, and not when you read the cost-report on set. I will reduce sums of money, but not lines. The budget lines are perfectly correct".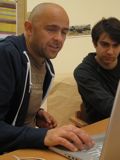 Admittedly, the pair got deeply involved in the process and took crucial decisions to help make the adjustments. "Working together on the schedule and the budget helped me to understand the project better, to get closer to it. It never felt like training", commented Heinz Stussak at the final evaluation, to which Kirsten Sohrauer replied: "It's an exchange: what they can give us and what we can give them".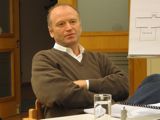 The Plan for it was already drawn up when Hans Petter Moland brought "THE ELEPHANT" to Production Value 2010. The year before, he had attended the workshop with another daring project: "Top of the World", to be shot in Greenland. Though this year he could not attend personally, the task was assigned by his producer Olav Oen (Norway): "We have a Plan to shoot this film on an existing oil rig, but that does not seem reasonable. Can you come up with another Plan to shoot it in studio?"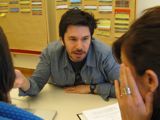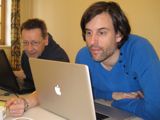 The challenge was taken up by Swedish Junior Assistant Director James Velasquez (Sweden) [left] and Junior Line Producer Roland Stebler (Switzerland) [right]. A hard job indeed, dismantling each sequence, getting into the mechanical aspects of an oil rig and trying to come up with a whole new plan from scratch.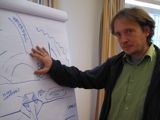 They could not have managed without the support of VFX Supervisor Frank Schlegel (SPEED RACER, V FOR VENDETTA) who provided visual effects solutions for almost all the projects. "I love every minute of it. It was like making 6 films at the same time", he commented. The film's budget did double, but at the same time the team brought in one million Euros from Germany through the specific refund system in place there.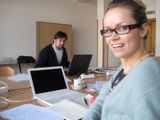 This kind of game — bringing money in place with your smart scheduling — is no longer a mystery to Junior Line Producer Mina S. Holdus (Norway) and Junior Assistant Director Sander Donker (Netherlands). The project "FRENCH TOUCH," a France-Belgium-Luxemburg coproduction with Patrick Quinet (Belgium) [bottom right] at the helm, to be directed by Gilles Beat (Belgium) [bottom left], and starring Gérard Depardieu, was a constant ping-pong game between schedule and budget. The film was set in Paris and Thailand but, for financing reasons, was to be shot mostly in Belgium and Luxemburg. A master of financing within French-speaking countries and systems, Patrick Quinet pushed the entire team to juggle around with the locations and expenses to get the most of each national scheme.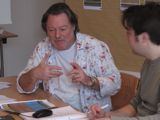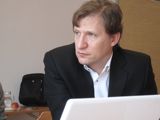 Neither Mina nor Sander had ever played this game before, since such schemes do not exist in their respective countries, so the workshop made them aware of financial implications way beyond what the script could dictate.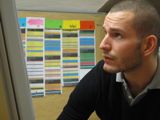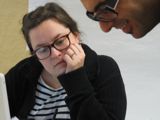 The path was quite different for "SORAN'S WAY," a road movie between Norway and Irak, involving children. "A pretty simple script at first glance, I thought. How wrong I was!" admitted Junior Assistant Director Kaspar Lerch (Germany). "I was wrong too. I am Swedish and I thought that budgeting a Norwegian film would be easy", added Junior Line Producer Asa Karlsson (Swedish). The truth of the matter is that the project brought by Producer Peter Boe (Norway) [bottom left] and Co-writer & Director Hisam Zaman (Norway) [bottom right]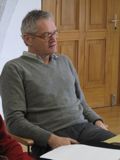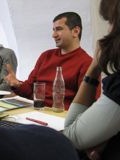 was tricky in terms of making it happen given a tight budget and complex coproduction requirements. Problems related to weather, crew sizes and children's regulations were ultimately solved, though not without the involvement of the director himself: "Usually, I stay away from the budget but here, I enjoyed being part of the process. I realized that there is an idea behind every single line of the budget", commented Hisam.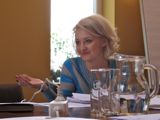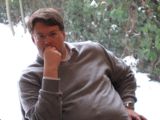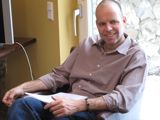 By public acclaim at the final presentation of results — a plenary session where every team explains to the others the challenges of their project and the solutions they found — the Golden Palm for Most Persistent Junior was awarded to Line Producer Marta Habior (Poland). Originally, she was assigned by Producer Martin Blankemeyer (Germany) [top right] and Writer-Director Tobias Stille (Germany) [right] to fully shoot the project "THE 36 DAYS OF THE ST-LOUIS" in studio in Luxemburg and in the Maltese water tanks, since no real period liner was available. So the option to shoot on a real boat was more or less ruled out. But Marta's gut feeling was telling her otherwise: for almost a month — Juniors receive their project assignment 3 weeks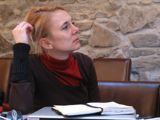 before the workshop starts — Marta researched for a real period liner until she finally found one in Turkey. "This result drastically changed the look of the film and balanced the schedule, said Junior Assistant Director Judith Lichtneckert (Switzerland). "From a green screen film, we moved to a project with realistic visuals." Marta listened to her gut feeling and, moreover, had the guts to go down the line, for the benefit of the project.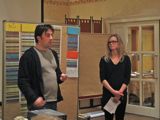 After a first experience in 2009, the position of observers continues to be encouraged within Production Value. It is an option open to people employed by film funds, who run up against the complexities of scheduling and budgeting documents and who have a hard time assessing their pertinence. They get a chance to see from the inside how and why things are scheduled and budgeted the way they are. "This was an enlightening experience," commented Anton Calleja, Project Manager at Eurimages. "Thanks to you, I returned to my job more inspired and aware of the importance of what I do", added Olivier Mueller, Head of Selective Funding at the Swiss Federal Office of Culture.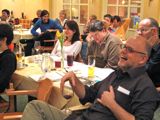 "We are the dinosaurs. You are the future" said Senior Line Producer Kaare Stormeyr — an assessment made during a very funny and emotional presentation of results, attended by the workshop partners from Austria, Switzerland, Norway and Sweden. It was Daniela Forn Mayor, however, who had the last word: "I learned so much myself. I wish this had existed when I was young. Even now, I would love to be a junior." Wouldn't you?
Projects
| Project FORSAKEN | Sweden / England |
| --- | --- |
| Junior Line Producer | Lorenzo Zambelli Hosmer — Italy |
| Junior 1st AD | Colin Azzopardi — Malta |
| Senior Line Producer | Michael Schwarz — Germany |
| Senior 1st AD | Stuart Renfrew — UK |
| VFX Consultant | Frank Schlegel — Germany |
| Producer | Karl Fredrik Ulfung — Sweden |
| Writer & Co-director | Mäns Märlind — Sweden |
| Project THE 36 DAYS OF ST-LOUIS | Germany / Luxemburg |
| --- | --- |
| Junior Line Producer | Marta Habior — Poland |
| Junior 1st AD | Judith Lichtneckert — Switzerland |
| Senior Line Producer | Kaare Storemyr — Norway |
| Senior 1st AD | Daniela Forn Mayor — Spain |
| VFX Consultant | Frank Schlegel — Germany |
| Producer | Martin Blankemeyer — Germany |
| Writer & Director | Tobias Stille — Germany |
| Project FRENCH TOUCH | France / Belgium / Luxemburg |
| --- | --- |
| Junior Line Producer | Mina S. Holdhus — Norway |
| Junior 1st AD | Sander Donker — Netherlands |
| Senior Line Producer | Marco Valerio Pugini — Italy |
| Senior 1st AD | Stuart Renfrew — UK |
| Producer | Patrick Quinet — Belgique |
| Director | Gilles Béat — Belgique |
| Project THE ELEPHANT | Norway / Germany |
| --- | --- |
| Junior Line Producer | Roland Stebler — Switzerland |
| Junior 1st AD | James Velasquez — Sweden |
| Senior Line Producer | Michael Schwarz — Germany |
| Senior 1st AD | Daniela Forn Mayor — Spain |
| VFX Consultant | Frank Schlegel — Germany |
| Director | Olav Oen — Norway |
| Project THE WARNING | Austria / Germany |
| --- | --- |
| Junior Line Producer | Kirsten Sohrauer — Germany |
| Junior 1st AD | Aldo Tardozzi — Croatia |
| Senior Line Producer | Kaare Storemyr — Norway |
| Senior 1st AD | Stuart Renfrew — UK |
| VFX Consultant | Frank Schlegel — Germany |
| Producer | Heinz Stussak — Austria |
| Writer & Director & Co-producer | Ernest Gössner — Austria |
| Project SORAN'S WAY | Norway / Germany / Greece |
| --- | --- |
| Junior Line Producer | Asa Karrlson — Sweden |
| Junior 1st AD | Kaspar Lerch — Germany |
| Senior Line Producer | Marco Valerio Pugini — Italy |
| Senior 1st AD | Daniela Forn Mayor — Spain |
| Producer | Peter Boe — Norway |
| Co-Writer & Director | Hisam Zaman — Norway |
Production Value 2010 was proposed by
FOCAL
Erich Pommer Institut
Norvegian Film Development
Austrian Film Institute
Swedish Film Institute
with the support of
The MEDIA Programme
Medienboard Berlin-Brandenburg